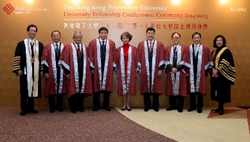 (PRWEB) January 29, 2015
Presided over by Ms Marjorie Yang Mun-tak, Chairman of the University Council, the conferment ceremony was held at the Jockey Club Auditorium on PolyU campus. The recipients were warmly greeted by PolyU President, Professor Timothy W. Tong and other senior staff members of the University. The list of distinguished recipients comprises educators, entrepreneurs, industrialists, philanthropists, and outstanding alumni of PolyU. They are (in alphabetical order of last name):
Dr Chung King Fai, SBS
Dr Chung King Fai is a veteran actor, director, television producer and programme host, as well as a theatre educator. He keenly supports PolyU's endeavors in promoting arts and culture by sharing his experience in performance arts with PolyU students on many occasions. As the Artist-in-Residence at PolyU in 2013/2014, he steered a series of activities related to stage production.
Dr Samuel Lam Pak Nin
Dr Samuel Lam, a specialist in diagnostic radiology, dedicated himself in promoting the development of social services and education. Through the Lam Woo Foundation, Dr Lam and the Lam family supported PolyU's Department of Applied Social Sciences and the Peking University to co-found the Lam Woo China Social Work Training and Development Fund. Dr Lam is also named Honorary Life Chairman of The Hong Kong Polytechnic University Foundation.
Dr Humphrey Leung Kwong Wai, JP
Dr Humphrey Leung, Founder and Group Chief Executive Officer of Solomon Systech Limited, has been actively involved in PolyU's activities for years. He has served as an Advisory Board Member of the Centre for Leadership & Innovation of the Department of Management and Marketing, and Advisory Committee Chairman of the Department of Electronic and Information Engineering. Dr Leung was presented the Outstanding PolyU Alumni Award in 2003.
Dr Dennis Ng Wang Pun, BBS, MH
Managing Director of Polaris Jewellery Manufacturer Limited, Dr Dennis Ng has been dedicated to social and community services. He founded the charitable organization Promoting Happiness Index Foundation in 2011. Dr Ng has rendered strong support to PolyU's fundraising events and has served as the Organizing Committee Chairman and Convener of the PolyU CMA 80th Anniversary – Mainland China, Taiwan, Hong Kong and Macau Invitational Golf Tournament 2014.
Ms Josephine Siao Fong Fong,MBE
Renowned actress Ms Josephine Siao has won numerous acting awards over the years. With the mission to protect children under 18 from child sexual abuse and to raise public awareness of this issue, Ms Siao founded the End Child Sexual Abuse Foundation and has served as its President.In 1997, Ms Siao was honoured 'Member of the Most Excellent Order of the British Empire' by the British government in recognition of her contribution to the community and the film industry.
Professor Wang Jianhua
Professor Wang Jianhua, Professor of Electrical Engineering and former Party Secretary of Xi'an Jiaotong University (XJTU), has contributed to the development and application of intelligent electrical devices in China. His staunch support in fostering the long-term academic collaborations between PolyU and XJTU has helped bring together the resources of both universities to nurture talents. Professor Wang has served as a member of PolyU International Advisory Board since 2010.
Mr Alexander Woo Chung Ho
Mr Alexander Woo, Chairman of Central Textiles Group, is committed to supporting academic development and knowledge transfer, with his company being one of the major technical partners of PolyU's Institute of Textiles and Clothing. In addition to the scholarships provided by the Woo family to PolyU students, Mr Woo established the Vincent and Lily Woo Endowed Professorship in Textiles and Technology in 2013, giving PolyU a strong impetus to contribute further to the development of the fashion and textiles industry.
Dr Royce Yuen Man Chun, JP
Dr Royce Yuen, Founder of New Brand New and Executive Director of Chinagrowth Group, has been serving as Professor of Practice at PolyU. In recognition for his distinguished achievements, he was presented the Outstanding PolyU Alumni Award in 2009. Dr Yuen took up the role of Deputy President of the Outstanding PolyU Alumni Association from 2012 to 2014, and has served as Chairman of the Advisory Committee on Communications and Public Affairs of PolyU since 2013.
Since its introduction in 2000, PolyU has conferred University Fellowship on a total of 83 distinguished personalities.