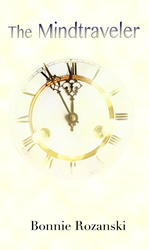 A captivating time travel romance with a firm footing in science
Pasadena, CA (PRWEB) January 29, 2015
Margaret Braverman, a 60-year-old physicist teaching at a small college, can't help but regret the things she never quite got right. Most of all was the tragic ending of her romance with her brilliant colleague Frank, something she's never gotten over it. Then there is the prospect of restoring the respect of her colleagues after an unfortunate incident where she set her hair on fire. And, of course, it would be glorious to get even with that mean-spirited, conceited, womanizing chairman of her department, Caleb Winter.
Common knowledge has it that we get but one shot at life. But in Bonnie Rozanski's new novel, "The Mindtraveler," Margaret gets a second chance. After years of experimentation in the back room of her lab, she has finally built a time machine. The key, she discovered, is in teleporting not the body but the mind. And so, at 5:03 p.m. on May 3, 2012, Margaret teleports her mind to her 1987 self.
The book is filled with details that will bring chuckles to anyone who remembers the eighties. The weather is a pre-Global Warming cool; the young are not glued to their electronic devices; anti-apartheid protests abound…. And for Margaret, it's a joy to walk again without an ache in her knees or that old hitch in her back. But she has a big problem: a disembodied mind residing in her young self's body can't move a muscle. All she can do is to passively witness what she lived once before, and, until she figures out how to influence things, nothing is going to change.
Paul Wandason, who hosts a popular time travel blog, calls the book a "captivating time travel romance with a firm footing in science." Simpson's Paradox referred to a feel of "magical realism," and calls the ending "both heartbreaking and strangely inevitable."
"The Mindtraveler" is available on Amazon in both print and electronic formats, from SPD Books in print, and for Nook, Kobo, and Apple. The print book is distributed by SPD and Baker & Taylor.
Bonnie Rozanski has an undergraduate degree in Psychology from the University of Pennsylvania, and Master's degrees in Computer Science and Business. She has worked in academia and business, but some years ago, in an epiphany, she decided to devote the rest of her professional life to her first love, writing. Since then, Bonnie has completed eight novels and six plays, with scientific issues generally informing the plots. Her first book, "Banana Kiss," was published in the fall of 2005 by Porcupine's Quill, a small Ontario literary publisher with a stellar reputation. "Banana Kiss" has earned critical acclaim in Canada and the U.S. with reviews in Foreword, Quill & Quire, the Globe and Mail, and the Trenton Times. "Borderline," Bonnie's second novel, was published in June of 2007 by Porcupine's Quill. It was shortlisted as a YA finalist for Foreword Magazine's Book of the Year Awards and received a silver medal at the 2008 Independent Publisher's Awards. The author also has five more ebooks for Kindle. One of them, "Six Clicks Away," was a drama winner of the Red Adept 2010 Indie Awards.
"The Mindtraveler," is the second release in Bitingduck Press's Spring 2015 "Hard Science Fiction" theme. Founded in March 2012 by two physicists, Bitingduck Press is an independent publisher that brings the quirky, ego-driven, and sometimes corrupt world of science to its readers. Publishing 6-8 titles per year, the press is currently accepting manuscripts for its 2016 Spring and Fall catalogs in a wide range of genres, particularly hard sci-fi and narrative nonfiction.