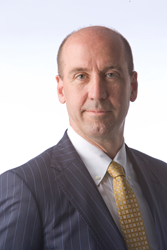 If you plot out a trend that is growing exponentially, the curve quickly shoots up. I want my clients to be ready and able to jump that curve.
Orlando, FL (PRWEB) January 29, 2015
Cleaning products play an essential role in our daily lives, and over the years technological advances have revolutionized the industry. Cleaning crosses into our homes and businesses, and out onto our streets. Cleaning products and services have become essential in the everyday life of the modern consumer. And the market continues to grow year after year - global sales of household cleaning products alone are predicted to reach $147 billion in 2017. Enter futurist Jack Uldrich.
On January 30th the American Cleaning Institute (ACI) is gathering for their Annual Meeting & Industry Convention in Orlando with futurist and business trend expert Jack Uldrich as one of their keynote speakers.
Uldrich, who annually predicts the global trends for each coming year, speaks all over the world to a vast array of audiences from large telecommunications firms like Verizon to his most recent keynote delivered to the Independent Bike Dealers (IBD) in Arizona. Uldrich paints vivid pictures of what the world may look like in just a few short years. He provides an in-depth exploration of how the "Internet of Things," 'Big Data," social media, robotics, biotechnology, nanotechnology, artificial intelligence, renewable energy and "collaborative consumption" will change everyday life for all of us in the very near future.
Uldrich's passion for nanotechnology spurs him to deliver potent insights on the trends toward environmental awareness in the cleaning industry, as well as shine insights on how technology will affect things like fragrance, and aesthetics in the industry. And his knowledge of manufacturing trends will hone in on how the packaging of cleaning products will shift in the years to come. Uldrich's goal is to help members of ACI future-proof their businesses so that they can leverage the tides of change to their advantage.
Following his keynote address for ACI Uldrich will be speaking to Professional Insurance Marketing Association, the Wisconsin Bankers Association, the Farm Credit Bank of Texas and at the Outsourcing World Summit.
Parties interested in learning more about him, his books, his daily blog or his speaking availability are encouraged to visit his website. Media wishing to know more about either the event or interviewing Jack as a futurist or trend expert can contact Amy Tomczyk at (651) 343.0660.