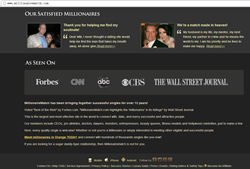 Los Angeles California (PRWEB) January 29, 2015
On Jan 19, 2015, members on the largest online millionaire community MillionaireMatch.com heatedly discussed whether language should be a barrier when two people are in love.
The discussion was very interesting. Most people believe language can be learned, and it should not be a barrier when two people are in love. However, other people think poor communication cause issues in relatioshhips. Language is an important way of communication. If people speak different languages, they cannot understand each other very well. Language may be the reason for a breakup. Another view is that language is not a barrier in love but it indeed is a reason that people cannot see the right person when looking for love.
Many participants in the millionaire club believe that love matters and love can move mountains.They share stories of couples around them. Most couples spoke poor English before they met. They can communicate with native speakers in English pretty well after learning the language. Conversation is not the only way to communicate. People communicate every day, but communication doesn't mean only talking in the same language. According to statistics published on Oct 7, 2010, 93% of daily communication is nonverbal, which includes facial expressions, gestures, posture, body language, and many more.It proves that two person can date and have a happy life together even they don't speak the same language.
Others on this millionaire matchmaker site think a successful and long lasting relationship requires communication. Language barriers and culture differences are common challenges to a couple who came from various countries. A love relationship only works when both parties involved. People can learn to speak another language but they have to live in that culture for years. Misunderstandings often lead to a breakup.
Another interesting view is that language is not a barrier if two people are truly in love. Language should not be taken as an excuse for a breakup. Couples could be happy with each other regardless of their different languages and backgrounds. But language is a barrier when one is looking for love. He/She may not see the real person because of the language barrier. In such a case, one member suggests that people should date and learn each other's language. Then, after being able to communicate well, decide if there is a fit.
About MillionaireMatch
MillionaireMatch.com is an online millionaire dating platform with more than 14 years presence in the industry, and millions of members. Most of its members are CEOs, doctors, lawyers, Hollywood celebrities, or professional models. It has formed a strong and safe community for those who want to date single millionaires online. It also offers the possibility to become a certified millionaire by submitting the financial information in the form of a tax return.