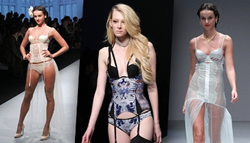 Hong Kong, China (PRWEB) January 30, 2015
The Show showcased 12 final collections of six outfits designed by graduating students majoring in Intimate Apparel. The raw materials as well as the design and production mentoring for the Show were sponsored by intimate apparel manufacturers and suppliers.
The show was well-attended by nearly 400 industrialists and fashion designers, including The Hon. Felix Chung Kwok-pan, Legislative Council Member (Functional Constituency – Textiles & Garment); Miss Vivienne Tam, world renowned fashion designer and ITC Adjunct Professor; Mr Philip Ma, Deputy Chairman & CEO, The Sincere Company Limited; Ms Janet Cheung, Vice Chairman, Hong Kong Fashion Designers Association; Ms Anita Tang, renowned interior designer; and Ms Sin-man Sin, local artist.
Professor John H. Xin, Chair Professor and Head of ITC, remarked that the students' works have fully demonstrated their creativity, knowledge and passion for intimate apparel design. This unique fashion show also furthered the continuous and close collaboration between the industry and ITC. On this auspicious occasion, Professor Xin was delighted to announce that Best Pacific International Holdings Limited has pledged a generous donation to ITC in support of the next Intimate Fashion Show.
Mr Kenneth K.C. Wong, Chairman of Hong Kong Intimate Apparel Industries' Association (HKIAIA) and the Executive Director of Top Form International Limited, recognized the important role of HKIAIA to support and develop young talents to become the future driving force behind the advancement of the industry. He was also impressed by the students' work and passion for intimate apparel design.
Mr Y.Y. Hung, Chairman and Managing Director of Regina Miracle International (Group) Ltd., has incessantly supported professional intimate apparel education to nurture the new generation for the industry needs. He appreciated the special opportunity of this fashion show to equip our students with proficient knowledge and skills in the latest design and technology to meet the needs of the industry.
Since its inception in 1957, ITC is committed to educational training and research development for the advancement of the Hong Kong fashion and textile. ITC is also the first institution in Asia Pacific to offer intimate apparel tertiary education to cultivate young talents in intimate apparel design and technology for developing future professionals.