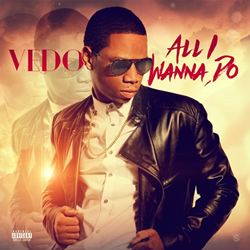 "I'm super excited. Everything has its time to happen…everything I've gone through and learned was a setup for this moment, for this year," VEDO says. "My main thing right now is staying focused and I believe with the team I have now, this is the start...
Atlanta, GA (PRWEB) January 28, 2015
Breakout star and singing sensation VEDO continues to give his fans exciting new music with the release of his latest single "All I Wanna Do." The upbeat record is just a preview of what his massive fan base can expect to hear on his upcoming album. The talented Atlanta artist showcases his amazing vocal skills and creative pen game on this guaranteed hit, produced by his good friend Mello the Producer. The beloved artist celebrated his new release at Hollywood's hottest Saturday night party inside Supper Club, alongside a bevy of beauties including fitness guru Rosa Acosta and Fox TVs Empire star V Bozeman, as well as VH1's Love & Hip-Hop Hollywood fan favorite Sincere Show and DJ Jae Murphy.
"This song is about showing a female just how different her life could be if she were with me. It's about showing her my lifestyle and how she could be apart of it," explains VEDO. "This album I'm working on is an introduction of who VEDO is to the world and the type of music I really like. 'All I Wanna Do' is just one of the type of songs that will be on the project. There will be a wide range of songs that you'll get to hear."
As a star on season four of NBC's The Voice, VEDO won millions of hearts over with his genuine talent and touching story. After losing his mother to lung cancer while competing on the show, VEDO is a true inspiration and example of what it means to stay strong no matter what life throws your way. Now with a new album on the way, currently in the studio working with his idol Usher, writing hits for other major artists in the game, and prepping the release of a new video for "All I Wanna Do," VEDO has hit the ground running in the new year.
"I'm super excited. Everything has its time to happen…everything I've gone through and learned was a setup for this moment, for this year," VEDO says. "My main thing right now is staying focused, and I believe with the team I have now, this is the start of something huge."
Listen to a full stream of Vedo's new record here: https://soundcloud.com/vedo-thesinger/vedo-all-i-wanna-do-single
Keep up with VEDO online at http://www.vedoworld.com and on Twitter & Instagram: @VedotheSinger
For more information please contact:
Echo Hattix: echohattix(at)echoingsoundz(dot)net
Moses Adam Hill: moses(at)echoingsoundz(dot)net