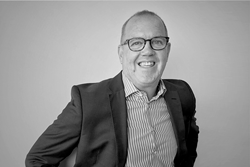 London, UK (PRWEB UK) 4 February 2015
Award winning data insights and analytics company Beyond Analysis, part of STW, has appointed Jeff Sanders as CEO to lead its Australian operation. He joins the agency immediately.
With more than 20 years' industry experience, Sanders joins Beyond Analysis from Global Red, where he was CEO for three years. His impressive data and direct marketing career also includes time spent at some of Australia's leading agencies, including nine years at RAPP as MD, plus roles at BWM, Leo Burnett and George Patterson Y&R among others.
As CEO, Sanders has been tasked with further growing the Australian Beyond Analysis business. He will also contribute to STW's strategy of further entrenching a data-centric approach to marketing and communications across its stable of companies.
Beyond Analysis CEO, Paul Alexander said: "Having worked with Jeff at Leo Burnett nearly 20 years ago, I know that Jeff is a unique talent and it feels like I have waited 20 years for the opportunity to work with him again. Beyond Analysis has worked hard to build our reputation for being able to connect insights from behavioural data to commercial success for our clients, and Jeff's ability to connect the dots from data, to insight, to execution and deliver real ROI is second to none. I can therefore think of no one better than Jeff to lead our Australian operation."
Sanders has also been keen to work with Beyond Analysis founders Paul Alexander and Will Beresford again for some time, particularly given the strong views on the future of the data-driven marketing business that they share.
"With the recent partnership with STW developing, the timing felt right. Beyond Analysis is in a very dynamic space - that frankly, in agency-land, is lacking in dynamism. Therefore, there is a real opportunity to get data out of the 'back room of reflective research oriented reporting' and become a 'catalyst for action' that drives results, sitting at the 'big boys' table, making things happen.
"I'm a pretty hard-core, customer focussed, sales driven marketer. And very well versed in the dynamics that create a positive relationship between the agency and its clients and how data - and in particular, transactional data - can effectively transform a clients approach to marketing and customer engagement. This combination of single customer view comms and data driven, evidence based decision making is where you really need to be in marketing today."
Sanders replaces Neil Boulton as CEO who is leaving the company in February.
Beyond Analysis Australia is part of STW, Australasia's leading marketing content and communications group. It is Australia's leading specialist customer data analytics and marketing insights firm, with offices in Sydney and London.
-ENDS-
About Beyond Analysis
Beyond Analysis is here to help our clients grow their business.
We help transform companies by putting actionable insights from data at the heart of their business. This, in turn, helps them make smarter decisions, identify & open up new revenue streams & ultimately grow corporate value.
Taking their biggest assets, their people & their data, we add our skills, experience, knowledge & technology & turn it into value. We do this by turning scary amounts of data & spreadsheets into meaningful bite sized chunks of information that are easily understood by anyone in your business, leading to a step change in performance.
We specialise in Retail, Financial Services & Travel using data to help our clients understand their business performance through a customer lens. To make evidence based decisions, rather than rely on hunch or gut instinct.
We are good at what we do. We have won awards & are proud to work with some of the leading names in our specialist sectors. We are also Visa's Strategic Insight & Analytics Partner & they are a shareholder in our business.
We deliver our work through five service offerings:

Data Strategy - We help you figure out how to use your data to grow your business. Be it the basics of good data collection, through to data monetization strategies.
Customer Intelligence - We use data to help you understand your performance through a customer lens. Creating a common understanding of customers across the business.
Data Visualisation - We turn your complex information into bite-sized, digestible infographics so you & your business can quickly & easily get to grips with your customers.
Engagement Strategies - We use data to help our clients develop the optimal engagement strategy so that you know how, when & what to communicate to your customers.
Quick & Easy™ Reporting - Our cloud based solution provides a multi-channel, detailed view of your customers at the click of a mouse for everyone in your business.