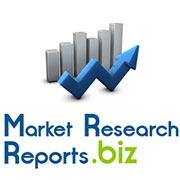 Albany, NY (PRWEB) January 29, 2015
The publication aims to dissect the various determinants that have an impact on the wearable technology material market using recorded and estimated statistics and market strategies. According to the 189-page report, the coming decade will offer the players in the wearable technology sector, including manufacturers and suppliers, an aggregate income of more than US$100 billion though material sales.
View Full Report With Complete TOC at http://www.marketresearchreports.biz/analysis/236692
The wearable technology materials market is currently experiencing a sea change, with the market primarily driven by the need to replace the now-obsolete traditional "components in a box" approach. This includes major changes in materials, suppliers, and processes due to the introduction of new practices. These include e-textiles, e-skin patches, rollable devices, and stretchable devices. There is a growing need for electronics to become increasingly invisible and yet heavily incorporated into daily objects.
The publication also discusses details of the wearable technology materials market such as the need for organic and inorganic compounds, the need for composites with respect to molecules, the use of various carbon allotropes, and the use of pre-coated films and inks.
The currently booming wearable technology materials market finds scope in fields as divergent as animal healthcare and identification, e-textiles, structural electronics, printed electronics, 3D printing, and energy harvesting.
Download Detail Report With Complete TOC at http://www.marketresearchreports.biz/sample/sample/236692
The key players in the wearable technology materials market discussed in the report include GSI, Soligie, Samsung, T-Ink, Paper Battery, Adidas/Textronics, Grafen Chemical Industries, Fujikura Kasei Co. Ltd., Sekisui Chemical Co. Ltd., and Cumitomo Chemical and CDT. Each company is examined in detail in terms of market strategies employed, position in the wearable technology materials market, predicted activities, and net worth.
A thorough assessment of chemicals and intermediates along with the structure of electronics for wearable technology is also provided. This includes details on the market in terms of smart skin, 3D Printing and materials, smart materials, printed modules, 2D titanium carbide, and printed graphene batteries.
The publication also includes an overview of the advancements in the wearable technology materials market made by organizations such as NASA.
Explore All Wearable Market Research Reports at http://www.marketresearchreports.biz/tag/Wearable
A special mention is made of DuPont USA and Holst Centre Netherlands in reference to stretchable electronics, marking their developments in the field.
The report shows 37 different families in the wearable technology materials market that are new and expanding. The new wearable technology and the use of 16 functional elements and compounds promise to deliver new areas of function from healthcare to fashion.
Related Reports
Wearable Technology 2014-2024: Technologies, Markets, Forecasts
View Full Report at http://www.marketresearchreports.biz/analysis/189537
Wearable technology mainly concerns devices and apparel/textiles. Glasses, jewellery, headgear, belts, armwear, wristwear, legwear, footwear, skin patches, exoskeletons and e-textiles are involved and the device business is already large. As the wearable electronics business powers from over $14 billion in 2014 to over $70 billion in 2024, the dominant sector will remain the healthcare sector which merges medical, fitness and wellness. It has the largest number of big names such as Apple, Accenture, Adidas, Fujitsu, Nike, Philips, Reebock, Samsung, SAP and Roche behind the most promising new developments.
Download Detail Report With Complete TOC at http://www.marketresearchreports.biz/sample/sample/189537
By the end of the coming decade, advanced informatics as wearable electronics will match that healthcare market, with Google Glass and the best e-wristbands being among the most promising devices so far promising billion dollar sales potential. However, truly disruptive new technology, in the form of e-textiles, will also begin to establish major sales in a few years' time and fashion, industrial, commercial and military applications will burgeon as a consequence. On the other hand, wearable infotainment will be increasingly commoditised by China, following its commoditisation of basic electronics wristwatches and earphones.
Wearable Technology In Industry Verticals 2014 - 2019
View Full Report at http://www.marketresearchreports.biz/analysis/232257
Wearable technology presents the potential for massive transformation in many industries. The more obvious ones include consumer electronics and communications. Early adopter industries include clothing, healthcare, sports and fitness. However, we see many industries adopting wearable technologies as computing and wireless communications integrate wearable into virtually every aspect of products and services.
Download Detail Report at http://www.marketresearchreports.biz/sample/sample/232257
This marketplace will initially be driven by practical solutions for healthcare, consumer wearables, and military applications. Despite the uncertainty of consumer receptivity, Mind Commerce estimates that global spending on wearable devices will grow from $9 billion in 2014 to reach $218 billion in 2019.
About MarketResearchReports.biz
Marketresearchreports.biz is the most comprehensive collection of market research reports, supporting clients' market intelligence needs with over 100,000 market research reports, company profiles, data books, and regional market profits in its repository. We also offer consulting support for custom market research needs.
Our document database is updated by the hour, which means that our customers always have access to fresh data spanning over 300 industries. From Fortune 500 companies to SMEs, Marketresearchreports.biz has built a veritable reputation for fulfilling the most exacting market research needs.
Contact:
Atil Chuadhari
State Tower
90 State Street,
Suite 700, Albany
NY 12207, United States
Toll Free: 866-997-4948
Email: sales(at)marketresearchreports(dot)biz