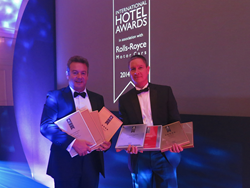 To win eight IHA accolades is truly amazing, and we are obviously delighted to take home so many awards in all categories that Kata Rocks entered.
Lodon (PRWEB) January 29, 2015
Kata Rocks, Phuket's leading luxury residential resort, sweep the International Hotel Awards (IHA) in London by winning eight awards total, adding to its already impress cache of international accolades.
Across all categories entered, it proved a fantastic night with Kata Rocks winning five IHA 'five-star awards' for Best Small Hotel, Best Resort Hotel, Best Hotel Website, Best Hotel Marketing and Best Spa Hotel. Kata Rocks also won Best Small Hotel (Asia Pacific), Best Hotel Marketing (Asia Pacific) and Best Hotel Marketing (Worldwide) giving it eight total awards, more than any other hotel including international brands like Sofitel and Marriott.
Kata Rocks CEO Richard Pope said the eight awards confirm Kata Rocks' position as the top trend setting resort for Phuket luxury living.
"The International Hotel Awards are a remarkable recognition of the best of the best in the luxury hotel market. To win eight IHA accolades is truly amazing, and we are obviously delighted to take home so many awards in all categories that Kata Rocks entered.
"It validates the many years of hard work spent creating a modern all-villa resort that combines cutting-edge design and its unique location with outstanding concierge-style Thai hospitality.
"Kata Rocks is very proud to have already won over 20 international design, property and marketing awards. These include Best International Apartment featuring entries from 110 countries, DestinAsian's 'Luxe List' 2014 and Best Restaurant in Phuket by Thailand Tattler. The Infinite Luxury Spa at Kata Rocks is also a nominee the World Luxury Spa Awards in 2015," Mr Pope added.
International Hotel Awards President, Mr Stuart Shield, said: "This is the fourth year of the International Hotel Awards. Its aim is to highlight excellence in the luxury hotel industry and praise the outstanding levels of service and style. With many five-star hotels offering an exemplary service on a 24-hour a day basis, we feel honoured to be able to highlight those that are making an art out of the process. They really do deserve recognition for all the effort they put into their business as well as their overall presentation and innovation."
About Kata Rocks
Kata Rocks is a design driven, luxury boutique resort and residence, located directly on the oceanfront at the southern end of Kata Beach along Phuket's world famous west coast. The resort has 34 'Sky Villas' from one to four bedrooms each offering its own private infinity-pool, plus expansive living and dining areas, superbly appointed bedrooms and bathrooms. Each Sky Villa features the latest interactive iPad technology allowing guests to control their Sky Villa environment at the touch or swipe of a button. Along with exquisite dining options, poolside restaurant and bar, the resort also features its own Infinite Luxury Spa and fitness centre. For additional information go to Phuket Luxury Resort.
About Infinite Luxury
Infinite Luxury is a Phuket-based lifestyle design company specialising in premier property development, five- star resort and spa management, and luxury living concierge services.