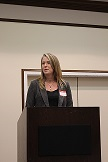 Covenant Security Solutions, Inc. is honored to be named as a fellow with ICIT. Covenant is excited about the joint effort to enrich our understanding of cybersecurity protections as it relates to critical infrastructure. Danyetta Magana, President
McLean, VA (PRWEB) January 29, 2015
President Obama's State of the Union Address made specific mention of the importance of combating Cybersecurity Threats. Specifically he stated "No foreign nation, no hacker, should be able to shut down our networks, steal our trade secrets, or invade the privacy of American families, especially our kids. We are making sure our government integrates intelligence to combat cyber threats, just as we have done to combat terrorism." Covenant Security Solutions, a global leader in cybersecurity, is in agreement that our networks and "securing our way of life" should be top national priority. Covenant is pleased to announce their continued support of this mission Covenant was named a fellow by ICIT.
As a fellow, Covenant will play an active role in advising Congressional caucuses, Senate Committees, and members of the legislative community on cybersecurity issues to support current and future legislation. Covenant Security Solutions, Inc. will leverage it's expertise comprising more than a decade of active support in cybersecurity both nationally and internationally. Covenant Security Solutions, Inc. has provided expertise in cybersecurity to the Department of Defense, The United States Census Bureau, and the Defense Intelligence Agency in addition to numerous federal and commercial companies.
Shelley Frazier, Chief Operating Officer at Covenant, was introduced as a Fellow by Sr. Fellow and Co-Founder Parham Eftekhari, who outlined the role Covenant will play in briefing Congress and federal agencies on cybersecurity legislation and policy.
"We are proud to announce the addition of Covenant as an ICIT Fellow. As a leading security training organization and cybersecurity service provider, their expertise as educators and practitioners of cybersecurity put them in a unique position to provide valuable thought leadership to the legislative community and federal agencies," says Parham Eftekhari, Co-Founder and Sr. Fellow, ICIT.
Covenant is pleased to support the ICIT mission as a fellow and seeks to continue this role in supporting organizations globally in the protection of lives in digital form.
The Institute for Critical Infrastructure Technology (ICIT – http://www.icitech.org) is a non-partisan Think Tank based in Washington D.C. that acts as a conduit between the legislative community, technology providers, and federal agencies. ICIT Fellows advise legislative community and federal agency executives on technology issues by providing expert opinions and talking points via briefings, presentations and ICIT meetings. Our Fellows are thought leaders in the growth and security of our nation's critical infrastructure sectors, including government, healthcare, finance, energy, communications and manufacturing. For more information please contact Sr. Fellow Parham Eftekhari at parham@icitech.org or 202-600-7250 x101.
About Covenant Security Solutions, Inc. (Covenant – http://www.covenantsec.com) Covenant is an award winning cybersecurity company focused on providing information assurance and cyber solutions that acknowledge the intersection of people, processes and technology required to reduce security risk in organizations. Covenant's approach to security is to work with clients to view cyber security through a more holistic and proactive paradigm. Every aspect of an organization is a part of ensuring a viable cyber infrastructure. Covenant has provided cyber security support for governmental agencies, mufti-national companies and small businesses for more than a decade. For more information please contact info@covenantsec.com or 866-824-8022 x800 or follow us on our blog TheCyberBusiness Roundtable on LinkedIn.