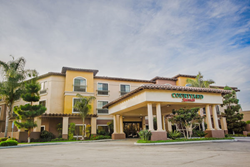 Come visit us in our new location at the Courtyard by Marriott
San Luis Obispo, CA (PRWEB) January 30, 2015
San Luis Obispo caterer, Popolo Catering, recently moved to a new location at the Courtyard by Marriott. The new address for the popular wedding and party caterer is at 1605 Calle Joaquin in San Luis Obispo, CA 93405. The leading catering company in San Luis Obispo, Popolo Catering specializes in catering weddings, anniversaries, birthdays, parties and community events.
"We've moved!" says owner Leon Castillo. "Come visit us in our new location."
The Courtyard by Marriott San Luis Obispo hotel is conveniently located near Cal Poly and a few miles to Avila Beach. The new location has a distinctive architectural style where guests can enjoy the warmth of the California sun. "Popolo Catering is happy to be at its new home," Castillo says.
"Our new location includes 139 spacious hotel rooms, state of the art commercial kitchen, 24-hour business center, an onsite restaurant open daily, bar with a lounge, and conference space," Castillo says.
The conference space is approximately 4,000 square feet with access to the outdoor patio, pool, and spa surrounded by the San Luis Obispo mountains; perfect for an indoor or outdoor celebration. "Plan your next event with Popolo Catering at the Courtyard where you can enjoy five meeting rooms with flexible meeting and banquet space," Castillo says. "We look forward to hearing from you!"
About Popolo Catering
Popolo Catering provides fresh, made-from-scratch local cuisine for your special event. They provide a level of high quality personal service. After catering in San Luis Obispo for over 25 years now, Popolo Catering has become one of the most popular and well-respected choices for catering services in the area.The Popolo family is especially honored to take part in weddings, anniversaries, birthdays, and other special community events.
Popolo Catering
1605 Calle Joaquin Calle
San Luis Obispo, CA 93405
(805) 543-9543