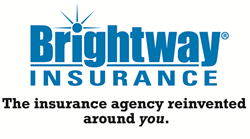 We think we offer one of the best opportunities in franchising; it's great to be recognized as among the best based on objective criteria - Chairman and Co-founder David Miller
JACKSONVILLE, FLA. (PRWEB) January 28, 2015
Brightway Insurance, Inc., a national property/casualty insurance retailer selling through a network of franchised independent agencies throughout the country, has been named a Top 500 Franchise by Entrepreneur magazine for the second year in a row. The company has also been named to the Franchise Gator Top 100 list.
Brightway, the only property/casualty insurance agency franchisor on the list, landed the #252 spot in Entrepreneur magazine's ranking (up from #277 in 2014) based on financial and statistical data from July 2012 to July 2014.
The most important factors, according to Entrepreneur, are financial strength and stability, growth rate and the size of the system. Also considered are the number of years a company has been in business, the length of time it's been franchising, startup costs, litigation, percent of terminations and whether the company provides financing.
Brightway landed the #25 spot in Franchise Gator's Top 100 ranking based on the quality of the franchise over time, according to Franchise Gator. Rankings are mostly based on a formula that uses information about financial stability, growth, transparency, engagement, continuity and sustainability.
Brightway is the only independent agency franchisor in the ranking.
"We think we offer one of the best opportunities in franchising; it's great to be recognized as among the best based on objective criteria," said Chairman and Co-founder David Miller.
Brightway independent agents have access to more than twice as many insurance companies as other independent agents and they focus strictly on selling and growing their books of business, while service, carrier relationships and technology are handled centrally. As a result, Brightway agents consistently sell more new personal lines business than do traditional independent agents.
Brightway began franchising operations in 2008, is privately owned and operates 115 franchise locations in eight states.
For more information about Brightway as a franchising opportunity, go to brightwaydifference.com