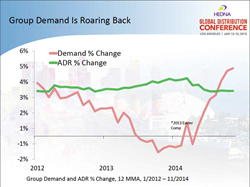 The bottom line is that the hotels that are evolving the way they handle group business and embracing new technologies, will benefit most from the predicted surge of group travel in 2015.
Boston, MA (PRWEB) January 28, 2015
By all accounts, 2015 is set to be a banner year for the U.S. hotel industry with occupancy levels reaching their highest point in 20 years—projected at 64.8%—and ADR continuing upward (PWC). Capturing group travel business will be more important than ever, and hotels that are ready to do business the way today's group planners desire will reap the rewards. To assist hotels with strategizing the crucial group segment, here are our predictions for the coming 12 months.
1. Group demand will be the driving force behind hotel occupancy & higher ADR
In late 2013, group demand was at the lowest point in a downward spiral; however, not only has it shifted, it is anticipated that group demand will reach the highest level in three years in 2015. Every indication is that hotels will see increases in occupancy, group, average ADR, and group ADR this year. Already in the first quarter of 2015, the segment group has had a 2.9% increase in ADR and a 3.7% increase in committed occupancy (NAHR).
2. Yield management will depend on securing advanced bookings for groups
With occupancy at record levels, inventory will be at a prime. Hotels must focus on capturing the groups which typically represent secure advanced reservations 60 days out. Because of inventory pressures, Groups will not be as discounted as in the past, but the ability to secure a base will allow revenue managers to increase rates for last minute bookings.
3. Cross-platform planning changes group organizers needs
Just like hotel leisure guests, planners are juggling smartphones, tablets, and desktops for research and, preferably, for booking as well. Web responsive designs as well as mobile apps that allow planner to manage groups will become the norm rather than the exception. They will expect easy access to capabilities such as e-invitations, payment choices, communication with hotel staff and attendees, and rooming list management at their fingertips.
4. While group occupancy increases, group size decreases
In 2015, groups are changing in many ways, including becoming smaller than the traditional 10-room block. This is especially true with the growing economic power of Millennials, who prefer to travel in groups, and are a connected and tech savvy generation. Hotels will find it profitable to consider any booking of 4 or more rooms as a group.
This necessitates a more efficient process, one like that of Instant Group Bookings and Groupize Hub, which allows group planners digital self-management of the entire process. A self-managed system has enormous appeal to planners, which means it offers a competitive edge for the hotels that adopt it.
5. Hotels will embrace true online group bookings this year to compete with massive third party consolidation
Hotel companies have fallen behind third parties in digital capabilities for meetings and events, but by employing a few digital strategies, they can drive more direct business and impede intermediary growth. Hotels will need to embrace online group bookings this year to compete with massive third party consolidation, such as Cvent acquiring Elite Meetings.
Group e-channels target a new segment: smaller, simpler meetings that are more transactional in nature and historically have seen much lower levels of intermediation. If intermediation levels on these smaller meetings reach that of larger meetings, we could see overall intermediation rates increase as much as 10%, costing hoteliers an additional $350 million to $400 million per year in commissions. Ease of transaction and speed of response also are key to win the business. (Source: http://www.hotelnewsnow.com/Article/14767/3-ways-to-win-the-group-customer-online)
This year, Groupize Solutions anticipates 8,000-10,000 hotels will make the leap to Instant Group Booking, which means group planners will be able to complete the whole process digitally—start to finish.
In Conclusion
The bottom line is that the hotels that are evolving the way they handle group business and embracing new technologies, will benefit most from the predicted surge of group travel in 2015. While it requires re-tooling some processes, ultimately sales teams will be more efficient, and the hotel product will be more attractive to planners in what is determined to become a highly competitive market.
###
About Charles de Gaspé Beaubien
Charles de Gaspe Beaubien is the CEO and President of Groupize Solutions. His 25 year career in the travel industry has included experience in every aspect of group travel. Whether guiding group tours, welcoming thousands of guests to the rafting company he co-founded, helping planners select Montreal as their destination while at Tourisme Montreal or serving in executive positions for major group tour operators including Yankee Holidays and Group Voyagers Inc. (Globus, Cosmos, Monograms and more); Charles understands the complications of planning and booking group travel. His hands-on planning experience, combined with his extensive experience in travel technology fuels his passion for bringing efficiencies to the difficult processes involved in booking and managing a group. Charles has held numerous board seats including the Canadian Tourism Commission Leisure Advisory Board, the Starwood Advisory Board, and the Gloucester DMO. He credits his education in Entrepreneurship from Bishop's University in Quebec and l'E.S.S.C.A. (Ecole Superieur des Science Commerciales d'Anger) in France for his 'we can fix this problem' attitude.
About Groupize Solutions
Groupize Solutions is passionate about solving the small to mid-size group booking dilemma for hoteliers and planners. Through the development and delivery of a highly intuitive group booking platform, Groupize Solutions empowers hotels to win and manage more group business thus delivering better service and ultimately increasing hotel revenues. Our innovative technology solution automates all tasks involved with booking group business online and simplifies the process for occasional and professional planners. Groupize Solutions is the proud winner of the 2013 PhoCusWright Award for most Innovative Travel Technology Company (Emerging Category). To learn more or schedule a demo, visit http://www.groupizesolutions.com
For more information or to schedule a GBE demo, contact:
Alisa de Gaspe Beaubien
Groupize Solutions
508-232-7719 x215
alisa(at)groupize(dot)com
http://www.groupizesolutions.com