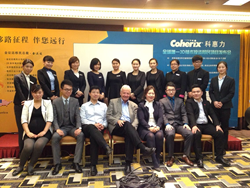 We are proud to be represented by such a professional EB-5 distributor as Beijing Royal Way. We are looking forward to a long and mutually rewarding relationship
Ann Arbor, Michigan (PRWEB) January 29, 2015
Beijing Royal Way LTD. recently released the Coherix EB-5 Project endorsing Coherix 3D Vision Technology for EB-5 Investments. Held in Beijing China, thirty (30) accredited potential individual investors were introduced to Coherix, Inc. and gained an appreciation for the trustworthiness of the company and its technology. With the information discussed they gained confidence in Coherix's ability to expand and flourish based on the unique value their technology brings to customers, when their 3D Vision Technology is implemented.
The EB-5 investors were impressed with the quality improvements precision manufacturers gain by controlling their production of high precision components when utilizing Coherix 3D Technology. The ability of Coherix 3D Technology to capture high-definition 3D images in a few seconds enabling customers to quickly and accurately observe that parts are being produced to meet quality standards. Beijing Royal Way LTD. is an Authorized Agent in Beijing, China for the Green Detroit Regional Center's EB-5 investor program.
Dwight Carlson CEO of Coherix states "We are proud to be represented by such a professional EB-5 distributor as Beijing Royal Way. We are looking forward to a long and mutually rewarding relationship".
Coherix designs and delivers high-speed, high-definition, 3D metrology and inspection tools for product development and the management of manufacturing processes for the precision manufacturing and semiconductor industries. Headquartered in Ann Arbor, Michigan the company has technical centers in Europe and the Asia Pacific region. Coherix products are being utilized around the world at companies such as ASE, SPIL, Marvell, BorgWarner, Ford, Honda, Allison Transmission, Chrysler, General Motors, Micron, Infineon, John Deere, Volvo Technology Transfer and Aisin among others.