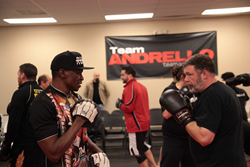 When you sit back and look at how monumental this event was, it just makes us feel so proud.
(PRWEB) January 28, 2015
Lace Up Promotions did it again. Just last November, they brought in the youngest heavyweight champion in history, boxing legend "Iron" Mike Tyson, to Western New York for an exclusive meet-and-greet followed by a special guest visit to the Legends Rise Kickboxing event in Lockport, NY. They are back at it by introducing, for the first time in history, the Mayweather Training Camp. Lace Up Promotions recently brought the Mayweathers out from Las Vegas to conduct the very first Mayweather Training Camp outside of the world famous Mayweather Boxing Club in Nevada.
Floyd Mayweather Sr., Roger "The Black Mamba" Mayweather and "Jazzy" Jeff Mayweather were all on hand at Team Impact Martial Arts in Baldwinsville, NY and WNY MMA in Buffalo on January 15 and 16 to conduct the historic seminar.
"When you sit back and look at how monumental this event was, it just makes us feel so proud," Lace Up Promotions CEO Amer Abdallah stated.
The seminar consisted of a two-hour training session explaining the "Mayweather Boxing Secrets" followed by a one-hour question-and-answer session with all three Mayweathers. Participants were then given opportunities to take photos with the trio.
The Lockport-based Lace Up Promotions created and promoted the event after months of planning.
"Our goal is to do this across the country and open this opportunity up to boxing fans everywhere," said Abdallah. "This weekend was a test run for us to gauge feedback, marketing and to make any modifications necessary before taking it on the road."
The first event was held in Syracuse at the famous Team Andrello training camp in Baldwinsville, NY where Abdallah said over 70 participants were on hand to train with the Mayweathers. In Buffalo, Abdallah took a slightly different approach. Abdallah reserved and paid for 30 inner-city and underprivileged boxers from local gyms to participate in the event.
"I set it up as an incentive program at local boxing clubs for kids that are excelling in school, jobs and work ethic to join the program for free," said Abdallah. "It was our way of congratulating them."
Kids, adults and fitness levels of all ages and demographics joined in the historic event, prompting Abdallah and his team to immediately call it a huge success.
"This kind of training camp isn't for the professional fighters only," Abdallah stated. "It's for any and all boxing fans to experience what it's like training with the best trainers in the world!"
Later that night, the Mayweathers watched the heavyweight championship fight at Rusty Buffalo in West Seneca. Abdallah made sure to bring the Mayweathers to his hometown of Lockport, where they had breakfast and toured the Locks. He then took them to the world-famous Niagara Falls to view one of the world's wonders.
Lace Up Promotions has a full schedule this year with six kickboxing events, many Mayweather Training Camps and several more meet-and-greet promotions across the country. Fans can follow them on Facebook at the official Lace Up Promotions fan page.
For more information on Lace Up Promotions and their upcoming events, "LIKE" them on Facebook or visit them at http://www.laceuppromotions.com.