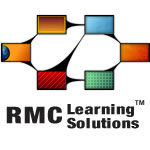 This partnership has taken our capabilities and practice area knowledge to a new level in training, coaching and Agile consulting
Minnetonka, MN (PRWEB) January 29, 2015
RMC Learning Solutions (formerly RMC Project Management), one of the fastest-growing professional development companies in the world, has recently announced a partnership with Collaborative Leadership Team, a Minneapolis-based training and coaching firm specializing in Agile practices. This partnership will greatly expand RMC's current Agile training offering, and allow RMC to add Agile-based coaching and consulting as a service to its institutional clients.
Ken Mulcahy, Vice President of RMC, expects this partnership to increase Agile adoption and transformation among the existing RMC customer base as well as attract new clients. "This partnership has taken our capabilities and practice area knowledge to a new level in training, coaching and Agile consulting," said Mulcahy. "In addition, RMC will have the ability to offer Agile training on a much wider range of topics, truly increasing our value we can provide each of our strategic accounts. Collaborative Leadership Team's materials and experience will be a wonderful complement to our existing Project Management, Agile and Business Analysis offerings."
This news follows on the heels of another recent partnership announcement by RMC. In January of 2015, RMC announced a similar partnership with Agile training leader ICON Technology Consulting, a premier provider of Agile training and coaching services located in Missouri.
More information will be released over the course of Q1 2015, but Mulcahy clarified that Agile-based coaching and transformation services, consulting, and training will be made available to key customers immediately.
ABOUT COLLABORATIVE LEADERSHIP TEAM
Founded by renowned Agile coach, trainer and speaker Angela Johnson, the mission of Collaborative Leadership Team (formerly Aequitas Consulting) is to grow individuals and teams by improving their ability to deliver valuable, working products. The company helps its clients achieve this goal through teaching, mentoring, and coaching, and is passionate about changing the world of work by seeking to help people and organizations break down their barriers and work together in a collaborative way.
ABOUT RMC LEARNING SOLUTIONS
Founded by Rita Mulcahy in 1991, RMC is the worldwide innovator in Project Management, Business Analysis and Agile training and professional development. Over the last 20+ years, hundreds of thousands of students in over 60 regions across the globe have utilized one of RMC's proprietary professional development resources, classes, or e-Learning courses to expand their knowledge and further their careers. Today, RMC offers a wide range of innovative project management, business analysis and agile classes and products to help beginners, advanced practitioners, and experienced professionals improve their skills and knowledge as well as prepare for certification.