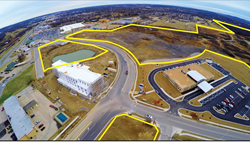 This auction provides a wonderful opportunity for buyers, particularly commercial developers and investors, who are looking for a great value
KANSAS CITY, Mo. (PRWEB) January 29, 2015
United Country – Birdsong Auction & Realty – headquartered in Poplar Bluff, Mo. – will conduct a bank-ordered auction of a partially finished commercial and residential development in Claremore, Okla. The property will be offered to the public at a live event Thursday, Feb. 26.
"This auction provides a wonderful opportunity for buyers, particularly commercial developers and investors, who are looking for a great value," said Travis Birdsong, broker, auctioneer and owner of United Country – Birdsong Auction & Realty. "The property lies directly on U.S. Route 66 next to a Walmart Supercenter and Lowe's with traffic counts of about 28,888 ADT. The east side of the property fronts on Interstate 44 for approximately 1,600 feet, offering great potential billboard sites for promotion of the development and its tenants."
The February 26 auction will be held at the Comfort Inn located at 1720 S. Lynn Riggs Boulevard in Claremore. The event will take place at 3 p.m., with registration beginning at 2 p.m. Property inspections will be available Thursday, Feb. 5 and Wednesday, Feb. 25 from 10 a.m. to 5 p.m. at the Comfort Inn mentioned above.
Located on the corner of U.S. 66 (Lynn Riggs Blvd) and West Country Club Road, these roughly 116 acres were designed to accommodate commercial units as well as multi- and single-family residences. The property features all utilities on site, and $2 million has been invested in streets and the entrance. The acreage will be offered as a whole or in three separate parcels measuring approximately 11.85, 48.44 and 55.77 acres.
For additional property details, as well as auction terms and conditions, visit BirdsongAuction.com. The United Country – Birdsong Auction & Realty team can be contacted directly at 800-223-4157.
About United Country
United Country Real Estate – a division of the United Real Estate Group – is the leading, fully integrated network of conventional and auction real estate professionals. The company has been an innovator in lifestyle and country real estate marketing since 1925. United Country supports nearly 600 offices and 5,000 real estate professionals across four continents, with a unique, comprehensive marketing program that includes the highest ranked and largest portfolios of specialty property marketing websites, the largest real estate marketing services company, an extensive buyer database of more than 500,000 opt-in buyers and exclusive global advertising of properties.