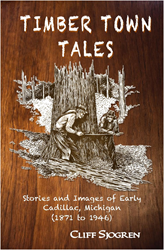 The Spirit of America
Cadillac, Michigan (PRWEB) January 30, 2015
While researching stories for the Cadillac News, Clifford Sjogren often wondered why someone hadn't captured the many unique elements of his hometown's unique early history and produced a Hollywood "blockbuster." The late 19th Century was the time-period of the "western" movies where the good guys wore white hats and the bad guys were either rich or robbers. Cows, horses, guns, barrooms, and a sheriff dominated the story lines many times. Sjogren wrote Timber Town Tales to illustrate how Northern Michigan pioneers experienced equal drama although in a much different setting.
A very rich good guy, George Mitchell, founded a village and welcomed hordes of young men by promising them high salaries to harvest giant trees and process the timber in the local mills. Life in the camps and forests was characterized by danger, maybe a bit of intrigue, and interesting personal relationships among good, hard-working mostly immigrant men. The village founder recruited other good rich guys who were experienced industrialists and who soon became both his friends and his corporate rivals in the small, picturesque community.
So, who were the bad guys? The chapter on "Boys Behaving Badly" briefly described the "activities" of an interesting cast of characters. Strong virile men with money attracted women to comfort and entertain them, often for a price. Several trains arrived daily bringing charlatans and snake-oil salesmen oftentimes of devious character, while the little village operated without a law enforcement structure in place.
Timber Town Tales offers an entertaining, informative insight into the spirit of America and will be of interest to readers of all ages.
About the Author:
After completing his education at Cadillac High School, Central Michigan University, and his PhD at the University of Michigan, Cliff Sjogren served as the undergraduate admissions director at the University of Michigan and later as dean of admission and financial aid at the University of Southern California. His overseas consulting assignments combined with his US Navy service brought him to more than 100 countries. He enjoys history, Alpine skiing, and his hometown of Cadillac.