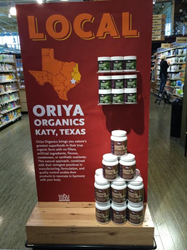 Katy, TX (PRWEB) January 29, 2015
Oriya Organics, LLC has launched its Superfood Protein Medley and SuperGreen Medley into the entire Southwest Region of Whole Foods Market.
"We are very excited to expand our product line into over 35 Whole Foods Market retailers in Texas, Louisiana, Arkansas and Oklahoma" said Ashley Aujla, Oriya Organics' Regional Marketing Manager. "Whole Foods Market is dedicated to providing only the highest quality products to their customers and this is a common value we both share. We look forward to a strong working-relationship with them now and into the future."
Their Superfood Protein Medley and SuperGreen Medley are some of the top-selling products in their respective categories. "What separates our line from the rest can be summed up in one word – quality. We use only organic, superfood ingredients that are minimally processed and raw to ensure the best finished-product to our customers. We never use sweeteners, like fructose or stevia, or artificial flavors, like chocolate or vanilla in our blends. Those ingredients just simply don't make the cut" said Aujla.
Oriya Organics, located in Katy, TX, is a manufacturer of organic, plant-based superfood blends. Their products include a vegan protein powder and a greens blend. Oriya Organics products are also sold in the top stores in the Southwest region of the United States including Central Market and over 50 independent retailers. They have plans to aggressively expand their line into additional regions in 2015.
Please direct inquiries to: Ashley Aujla (Ashley(at)oriyaorganics(dot)com)