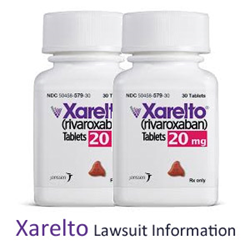 If you believe you have suffered internal bleeding due to Xarelto contact the attorneys at Wright & Schulte LLC For a Free legal consult buy calling 1-800-399-0795 or visit www.yourlegalhelp.com
Columbus, OH (PRWEB) January 28, 2015
More than a month after federally filed Xarelto bleeding lawsuits were centralized in the U.S. District Court, District of Louisiana, Wright & Schulte LLC notes that all Xarelto lawsuits filed in Pennsylvania have been consolidated in the Philadelphia Court of Common Pleas. The firm further notes, court records indicate that Administrative Judge Kevin Dougherty, of the Philadelphia Court of Common Pleas, created a mass tort litigation program for the 75 Xarelto bleeding lawsuits filed against Bayer Healthcare Pharmaceuticals, the maker of the blood thinner medication, and Johnson & Johnson's Janssen Pharmaceuticals unit, which markets the blood thinner Xarelto. In his order issued on January 20, Judge Dougherty said he was granting a plaintiff's petition which asked the court to transfer the Xarelto complaints to the court's Complex Litigation Center for coordinated pretrial proceedings. The Xarelto lawsuits allege that patients who used the prescription blood thinner experienced uncontrollable or fatal bleeding side-effects due to the lack of an antidote to reverse the effects of the anticoagulant medication. (In Re: Xarelto Litigation, Case Number 150102349)
Wright & Schulte LLC continues to investigate purported Xarelto bleeding side-effects experienced by men and women across the country. The firm offers free legal consultations to those who believe they have experienced uncontrollable bleeding, hemorrhaging and other side-effects as a result of using Xarelto and other prescription blood thinners. To speak with one of the firm's experienced attorneys please call 1-800-399-0795 or visit yourlegalhelp.com for more information on this and other prescription drug lawsuits. "With Xarelto lawsuits filed throughout the state of Pennsylvania and the country, it allows for a more cohesive litigation process"
Xarelto (rivaroxaban) is an oral anticoagulant approved by the U.S. Food and Drug Administration (FDA) to treat deep vein thrombosis (blood clots in the leg) and pulmonary embolism (blood clots in the lung) and to reduce the risk of stroke and blood clots in patients with atrial fibrillation (irregular heart rhythms). Xarelto is considered a new generation blood thinner compared to warfarin (Coumadin, Jantoven), a blood thinner that has been on the market since its FDA approval in 1954. The FDA notes that the new generation of blood thinner medications, which includes Xarelto, Eliquis and Pradaxa, do not have antidotes to stop severe bleeding in patients who use the drugs. Warfarin uses vitamin K as a reversal agent should serious bleeding occur in patients who take the prescription blood thinner.
[fda.gov/NewsEvents/Newsroom/PressAnnouncements/ucm326654.htm, November 2, 2012]
[fda.gov/Drugs/NewsEvents/ucm405148.htm, July 17, 2014]
The firm further comments that just as a petition was filed to consolidate Xarelto lawsuit complaints in Philadelphia, court records indicate that a plaintiff's request was filed with the U.S. Judicial Panel on Multidistrict Litigation (JPML) to centralize all Xarelto complaints filed in federal courts across the country. Plaintiffs involved in Xarelto lawsuits filed a motion with the judicial panel which said in part that there were 1,080 Xarelto-related serious events reported to the FDA in the year leading up to June 30, 2012, including 65 deaths. The motion went on to say that there were over 2,000 new reports filed with the FDA by the end of 2012. After hearing oral arguments on the consolidation request, the JPML in December granted the request and transferred 21 Xarelto complaints to the U.S. District Court, Eastern District of Louisiana. The judicial panel explained that consolidating the Xarelto lawsuits will help to prevent inconsistent rulings and eliminate duplicate discovery during the pretrial process. As of January 15, there are 86 Xarelto lawsuits pending in the Xarelto multidistrict litigation which is being supervised by U.S. District Judge Eldon E. Fallon. The first status conference for Xarelto MDL 2592 is scheduled for January 29. (In re: Xarelto (Rivaroxaban) Products Liability Litigation, MDL 2592)
According to the petition requesting Xarelto consolidation in the Pennsylvania state court, Wright & Schulte notes all of the pending Xarelto complaints have similar legal and factual issues and allege that Bayer and Janssen Pharmaceuticals failed to warn doctors that Xarelto does not have reversing agents which leaves trauma professionals in emergency rooms without any effective means to treat and stabilize patients who experienced uncontrolled and excessive bleeding due to taking Xarelto. (In Re: Xarelto Litigation, Case Number 150102349) The Pennsylvania Record reported that Janssen and Bayer opposed the consolidation in the Philadelphia Court of Common Pleas. According to the report, Janssen issued a statement saying that the company will defend itself against the Xarelto claims. The company went on to say that all blood thinners have a bleeding risk and Xarelto's prescribing information "has always warned of these risks."
[pennrecord.com/news/15536-philadelphia-court-establishes-xarelto-mass-tort-docket, January 22, 2015]
About Wright & Schulte LLC
Wright & Schulte LLC, an experienced personal injury firm, is dedicated to the belief that America's legal system should work for the people. Every day, the attorneys of Wright & Schulte LLC stand up for the rights of people who have been injured or wronged and fight tirelessly to ensure that even the world's most powerful corporations take responsibility for their actions. If you're looking for a law firm that will guarantee the aggressive and personal representation you deserve, please do not hesitate to contact Wright & Schulte LLC today. Free Xarelto bleeding lawsuit case evaluations are available through yourlegalhelp.com or by calling 1-800-399-0795.
Contact:
Wright & Schulte LLC
812 East National Road
Vandalia, Ohio 45377
1-800-399-0795
http://www.yourlegalhelp.com
Like us on Facebook
Follow us on Twitter
Join us on Google+