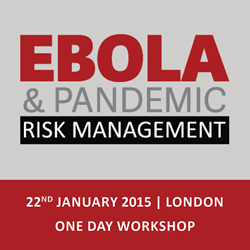 It's an IRN Summit!
London (PRWEB UK) 30 January 2015
IRN gathered a panel of outstanding experts to provide delegates with a holistic overview of pandemic risk management for corporations, with an emphasis on the ongoing Ebola pandemic.
This platform was the only meeting during the current Ebola outbreak to gather public sector, private sector, Governmental and NGO participants in one forum to discuss ways to manage this serious risk and any others that may arise in the future.
The Workshop and Conference was opened by the Chairman Dr Jonathan O'Keeffe, Regional Medical Director of Medical Services for Northern Europe at International SOS, who hosted the Workshop. Delegates heard a thorough overview of the current pandemic, as well as an update on the IDRAM Initiative (Extractive Industries Infectious Disease Risk Assessment Management), a subject of great interest to the many extractive industry companies that were present. Amongst them were ArcelorMittal, Sierra Rutile, Société des Mines de Fer de Guinée, FMC Technologies, Newmont Mining, Schlumberger, Geoquip Marine UK, Tullow Oil and others.
The Ambassador of Guinea, as well as international companies from the food and beverage, manufacturing and infrastructure industries, also participated in the Forum.
Three Workshops hosted by Control Risks and International SOS followed. These gave a solid understanding of best practices for Travel Risk Management, Ebola Response Planning, and Crisis Management Team Planning. The audience was encouraged to ask questions and share field experiences which resulted in very interactive and engaging sessions.
The afternoon's presentations included a joint presentation from Clive Oosthuizen, Risk and Asset Protection Manager, and Angela Nalson, Human Resources Manager from the Mining company Sierra Rutile. Based out of Sierra Leone, the company has taken serious steps, in partnership with local community leaders, which has resulted in the remarkable fact that none of their 2,500 employees have been infected with Ebola, and their operations continue to run.
Delegates then learnt of the vital role the Private sector can play in fighting a health crisis by learning about the work of the Ebola Private Sector Mobilization Group (EPSMG). This organisation represents over one hundred of the companies operating in Ebola affected regions and was convened to help the fight against this deadly virus. The presentation by Dr. Alan Knight, Group Head of CSR for ArcelorMittal, who also chaired this forum, pointed out that while commercial companies active in the region cannot provide medical expertise, they are logistical experts in the region and can offer their resources (such as motorbikes, phones, accommodation) and expertise to do their part in the fight against this crisis.
The wide-reaching stigma around a pandemic such as Ebola was addressed in this Forum - the presentation by the Group Health Manager from Tullow Oil, Sandra Neylon, discussed the various challenges they faced internally and for their employees in their personal life, in overcoming the fears around this virus, particularly in the early days. The presentation by the Workshop's Charity Partner, Medecins Sans Frontieres/Doctors Without Borders, whose employees are on the front line and can be the most at risk, shed light on how they, as an organisation, overcome this particular fear factor.
The one-day meeting, supported by the Business Council for Africa, also gave a clear vision of how much can be achieved when the traditional barriers between Governmental and private companies, NGO's and medical services are broken down, and new avenues of communication and cooperation are established. The current Ebola pandemic is still a huge cause of concern but is coming under control. The risk of health crises is growing however, in an ever more connected world with a growing population. The expertise and planning required to manage such crisis are vital for all companies to be fully prepared for.
Sponsors of this workshop were SP Services, the international supplier of first aid, medical, ambulance and paramedic equipment, who showcased a full range of life-saving products at the event; and Ximax Environmental Solutions, manufacturer of water treatment products and systems.
More information on next editions of the Pandemic Risk Management Workshop this year are available at http://www.irn-international.com or upon subscription to IRN newsletter. Documentation and presentations are available for purchase for those that did not attend.