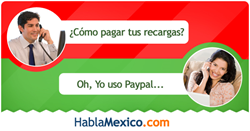 "Muy facil y rapido para mandar una recarga a cualquier cell a mexico." (Sergio Noriega on Trustpilot)
Atlanta, Georgia (PRWEB) January 30, 2015
Mexicans living outside their mother country now have the opportunity to send extra mobile credit when they top up a Movistar prepaid cell phone in Mexico. The Bonus applies instantly for recharges of minimum $6 and consists of 50 free additional minutes for international calls to the USA and Canada, plus 100 SMS. This promotion speaks up to those whose friends or family in Mexico use Movistar mobiles and would be happy to get some mobile credit from abroad plus a bonus.
This Bonus is added to the balance of the prepaid number in Mexico (prepaid plans included), no matter the value purchased. The promotion runs until February 1st (Mexico time) on http://hablamexico.com/buy/mobile_recharge.
The extra minutes received through this promotion can be used for international calls to the USA and Canada, according to the Terms specified by Movistar. Minutes, as well as the 100 SMS will be received immediately after the purchase has been made successfully on HablaMexico.com.
No matter the country the top up is sent from, it only takes 1 minute to make a mobile recharge on http://hablamexico.com/buy/mobile_recharge. The only condition is that a user has to open an account on HablaMexico.com, which costs nothing.
Payments on HablaMexico.com can be made using PayPal or any major card, no matter the currency of the bank account. The website is labeled by "Verified & Secured" for its highly protected transactions. It is certified by BBB and TRUSTe for its privacy policy, customer care and marketing transparency and fairness.
Other aspects customers find helpful on HablaMexico.com:

Complex account history
High customer care and attention to feedback
Constant support on chat, by email and phone in both Spanish and English
Sending mobile credit cross the borders has several advantages in comparison with a money transfer or other transfer of goods.

It is a chance to support family and friends back home or just surprise them from time to time with a gift (mobile credit).
It is a way to save money by crediting one's own phone if subscribed to Movistar in Mexico.
To have a clearer idea, here is an example. One can order $6, which is the minimum amount to transfer to a Movistar mobile in Mexico.The total amount to be paid in the checkout is a total of $7.18. In other words, the $6 value purchased plus a processing fee of $1.18 for this value. The friend or family member in Mexico will receive the equivalent in Mexican pesos of $6 plus 50 international minutes plus 100 SMS.
To send the mobile recharge, one needs to:

There are many advantages of making an international top up with HablaMexico.com. Among the most obvious ones are:

It takes less than 1 minute top up one's personal phone
It is a way to send a quick gift online and fits all tastes
Mobile credit reaches the destination number instantly
Transactions are really simple compared to direct money transfers
One can control how the money sent home is spent
24/7 friendly Customer Support in several languages, available on chat, by email or phone
Best top up value on the market
Daily promotions for all destinations announced on Facebook
The lowest processing fee on the market for international recharges
The current promotion for Movistar top ups has been conceived for loyal customers, as well as for those curious to top up Movistar mobiles for the first time and test it.
Daily promotions are also on HablaMexico.com's priority list. Worldwide offers are advertised under "Promotions" and social media channels. To stay tuned in:

More and more popular on the market, mobile top ups also known as airtime are:

A way to support people with lower income
Simple gifts to show affection and attention
HablaMexico.com has been set up as a service that helps people living in residential countries to transfer mobile credit from their HablaMexico.com account to mobiles in other countries, most often in countries they immigrated to.
HablaMexico.com is an interactive website designed by KeepCalling, a global telecommunications company registered in 2002 in the USA. Presently, KeepCalling provides its services to hundreds of thousands of consumers and businesses, with a focus on customer satisfaction. KeepCalling has been listed by Inc 5000 in the top 20 telecom companies in the USA for the last 4 years. In 2014, the company was designated the 18th fastest growing company in the telecommunications industry in the USA with a revenue increase of over 600% from 2010 to 2013.