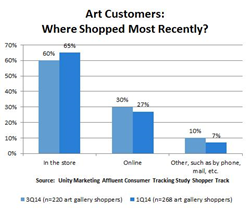 People who appreciate and can afford fine art have moved outside the traditional four-walls of the retail art gallery. In response to retail disruption, art galleries must adapt if they are to survive.
Stevens, PA (PRWEB) January 29, 2015
Is the traditional business of running a retail art gallery on its last legs?
Are art galleries a remnant of a bygone era, seen by today's young art consumers as elitist, snobby or condescending?
How can art galleries capture the young 'creative class' who may not yet have the money to afford masterpieces, but have the passion to build an art collection? A new report from Unity Marketing answers these questions and more.
Considering the number of retail art galleries that have closed their doors since 2010, you might think so. In 2014 there are roughly 5,000 retail art galleries, down from some 6,500 galleries in 2010 -- nearly a 25% drop in only 4 years, according to statistics compiled by D&B's Hoover's subsidiary.
While the number of retail establishments devoted to art has declined sharply in the last four years, the number of highly-educated affluent consumers who can both afford and appreciate art has grown significantly. In fact, the affluent consumer segment (those with incomes at the top 20%) are growing faster than any other segment in the market, up 13% from 2010-2013. By contrast the total number of U.S. households grew only 2.5% in the same period.
So, if the total target consumer market for art is growing, why are retailers devoted to selling art disappearing? "It's retail disruption, pure and simple," says Pam Danziger, president of Unity Marketing and author of a new report, Art Gallery's Guide to the New Art Customer. "People who appreciate and can afford fine art have moved outside the traditional four-walls of a retail art gallery. In response to retail disruption, art galleries must adapt if they are to survive."
Affluent art enthusiasts are turning more frequently to buying art directly from the artist or at art shows, like the recent Miami Art Week, which featured some 20 different art fairs, including the Art Miami show and Aqua Art Miami, which reported record crowds this past December. And increasingly they are buying fine art online from such services as Amazon.com, ArtFinder.com and Zatista.com.
In Unity Marketing's most recent Affluent Consumer Tracking Study (ACTS), some 30% of affluents made their most recent art purchases online and another 10% bought in some other way, such as at an art show. Few retail art businesses can withstand losing 40% of their business as customers walk right past their doors and instead go shopping online or to art fairs.
But it's not all doom and gloom for the traditional art gallery. Retail art galleries can achieve a competitive edge with a better understanding of today's art consumer. Art gallery owners and managers will find the tools they need to win over today's art collectors in a new report from Unity Marketing, entitled Art Gallery's Guide to the New Consumer Art Market: Retailer's Guide to Marketing Art in New Luxury Style.
This exclusive reports reveals demographics and purchase behavior of art customers, in particular affluent consumers who have the disposable income to indulge in art. Also included in the report are examples of art galleries that are succeeding and staying ahead of the competition. It presents strategies for art marketers to get out ahead of the curve as well as ways to put the internet and social media tools to work for the retail gallery.
About Pam Danziger & Unity Marketing
Pamela N. Danziger is an internationally recognized expert specializing in consumer insights for marketers targeting the affluent consumer. She is president of Unity Marketing, a marketing consulting firm she founded in 1992. Pam received the 2007 Global Luxury Award for top luxury industry achievers presented at the Global Luxury Forum by Harper's Bazaar. Luxury Daily named Pam to its list of "Women to Watch in 2013." She is a member of Jim Blasingame: The Small Business Advocate's Brain Trust and a contributing columnist to The Robin Report, a monthly newsletter for senior executives in the retail, fashion, beauty, consumer products and related industries.
Pam's latest book is Putting the Luxe Back in Luxury: How new consumer values are redefining the way we market luxury (Paramount Market Publishing, 2011). Her other books include Shopping: Why We Love It and How Retailers Can Create the Ultimate Customer Experience, published by Kaplan Publishing in October 2006; Let Them Eat Cake: Marketing Luxury to the Masses-as well as the Classes, (Dearborn Trade Publishing, $27, hardcover) and Why People Buy Things They Don't Need: Understanding and Predicting Consumer Behavior (Chicago: Dearborn Trade Publishing, 2004).