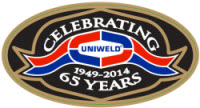 Quality Tools That Go To Work With You.
Fort Lauderdale, Florida (PRWEB) January 29, 2015
In early 2014, Uniweld announced the release of their revolutionary EZ Turn™ Anti-Blowback Hoses for the HVACR Industry. An extremely innovative product, the EZ Turn™ Anti-Blowback adaptor was first seen at the AHR Expo in New York City where it debuted with the EZ Turn™ Challenge, a live demo that challenged the EZ Turn™ Anti-Blowback Hose against any style hose being used in the industry today and proves its superiority. The EZ Turn™ Anti-Blowback fitting has a thrust bearing that reduces friction so the service hose can be easily connected to the access fitting while under pressure. This becomes extremely useful when working with a high pressure 410A system. Along with the announcement of this amazing product, the company released an informative video detailing its functionality.
Uniweld also introduced the USI4EZ Solution Injector for air conditioning and refrigeration systems. The USI4EZ was designed with durability in mind and has a 4 oz. capacity.
Uniweld released several great training videos (available in English or Spanish) and product tutorials in 2014. The company's HVAC/R training video covering oxyacetylene tip selection overviews the tip selection process for an oxyacetylene outfit and safety recommendations. This tip selection video was designed to educate new technicians as well as technicians who do not give much thought to the importance of tip selection.
Additionally, Uniweld released product videos featuring their NV1 NitroVue™ Nitrogen Flow Indicator, a unique tool that simplifies the purging of nitrogen during the brazing of copper tubing in Air Conditioning and Refrigeration systems with an easy to read flow indicator label and a precision adjustable valve to control the low flow of nitrogen gas.
Uniweld received great, positive response at 2014 Fabtech Show in Atlanta, Georgia, in reference to the great products that were showcased at the event. Uniweld's display of hand and machine cutting torches drew interest from all trades attending the show. Flame tools used in shipyards and power plants worldwide were the heart of their exhibit.
John Richardson accepted an Industry Award on behalf of Uniweld Products for 50 years of participation in the HARDI Conference Booth Program and Uniweld Products, Inc. was pleased to attend the 2014 HARDI Shift into Gear Conference in San Antonio.
Uniweld underwent several technical upgrades throughout the 2014 year. Ranging from web server upgrades to factory floor automation. Uniweld strives to advance technologically and the past year has proven to be successful in that. The company's website and web server received several upgrades throughout the year. Additionally, the company increases its number of production machines and implemented shop floor automation for the machines in the factory; these expansion and automation upgrades allow the company to operate more efficiently and accurately.
For more information about Uniweld's 2014 year CLICK HERE.