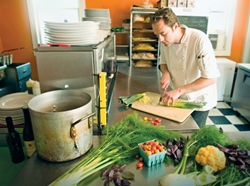 (PRWEB) January 29, 2015
A team of chefs from Abingdon will head to the 10th annual "Cast Iron Cookoff" in West Virginia this weekend, January 30-31, 2015.
This annual cooking competition celebrates all things Appalachian and edible, incorporating local ingredients, innovative recipes, and traditional Appalachian tools such as, yes, cast iron skillets. The "Rooted in Appalachia" team from Abingdon is the only team to be invited from outside West Virginia.
Teams have just 90 minutes to plan and 75 minutes to prepare a four-course meal for judges. Dishes are inspired by traditional Appalachian dishes, placing a premium on local ingredients.
The Rooted in Appalachia team will represent Southwest Virginia's strong local foods movement. This region of the country still has a large number of family-owned farms, and farmers markets pop up each weekend in towns like Abingdon, featuring indigenous foods like garlicky ramps, morel mushrooms, and paw paw fruits. Rooted in Appalachia is an initiative that connects farmers with restaurants, sustaining the local economy while bringing the freshest, most delicious ingredients to the table.
The Rooted in Appalachia team is made up of three Virginia chefs: team leader Jassen Campbell, the Food and Beverage General Manager of Heartwood: Southwest Virginia's Artisan Gateway; Abigail Hutchinson, Executive Chef at The Olde Farm in Bristol, Virginia; and Nathan Breeding, Chef and owner of Southern Culture Farm to Table Food Service, based in Abingdon.
The Cast Iron Cookoff is organized by Collaborative for the 21st Century Appalachia, a West Virginia non-profit founded to ensure the viability of small farms, rural communities and a traditional way of life. Amy Shuler Goodwin, commissioner of the West Virginia Division of Tourism, and Dale Hawkins, owner-operator of Fish Hawk Acres, will emcee the "Battle of the Virginias."
The competition is free and open to the public. For those wanting to sample some Appalachian cuisine, there will be a "dine-around" after the judging Saturday night; tickets are $40 each.