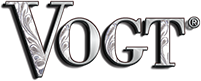 By expanding our portfolio we are serving a desire not currently met and can continue our tradition of innovation
Woodland, CA (PRWEB) January 28, 2015
Smooth and sophisticated lines and designs epitomize the newly released collection of executive belt buckle sets crafted by industry leader, Vogt Silversmiths. The company officially announced their new line this January.
Historically known for their heirloom quality, hand crafted, hand engraved, solid sterling buckle sets and Western accessories for over 40 years, Vogt Silversmiths crosses over into the design and fabrication of contemporary, sterling silver buckle sets and accessories for men.
Featuring names such as Park Avenue, Fifth Avenue, The New Yorker, The C.E.O., and The Millennium, these designs are evocative of suiting essentials worn by bankers, businessmen, entrepreneurs or account executives. The entry level price point for the "Executive" buckle set begins at $400. The collection's premier piece is the Diamond Streamline, a 14k solid gold buckle featuring 12 diamond baguettes, which commands a retail price of $24,000.
The Elan pieces illustrate sophisticated, geometric designs of smooth, cast, solid sterling and sculpted, contoured lines often accentuated with rounded bands of 14 karat gold. Within the Executive Collection, buckles and keepers take on varying widths and dimensions to complement suiting styles and are most stunning when paired with exotic leather belts.
Vogt has designed and crafted coordinating cufflinks and money clips to complete the line of accessories. It is anticipated that the product line will continue to diversify to include a selection of solid sterling dress buckles highlighted by hand-cut scroll work, twisted sterling rope, and 14k gold accents.
"As we looked beyond the Western lifestyle marketplace we recognized that there are very few offerings in a contemporary, solid sterling design for business professionals and the fashion savvy. By expanding our portfolio we are serving a desire not currently met and can continue our tradition of innovation," states Chet Vogt.
The collection was originally released in late October, 2014.
About Vogt Silversmiths
Vogt Silversmiths sells belt buckles, men's accessories, western jewelry, leather items and more. Many of their pieces are handmade and hand engraved, and Vogt Silversmiths purchases are protected by a lifetime guarantee. To learn more about their products, visit vogtsilversmiths.com