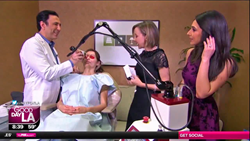 Los Angeles, CA (PRWEB) January 29, 2015
On January 12, 2015, W Magazine article posted an online article titled "Forever 21," that discusses the latest cosmetic enhancements celebrities use to maintain their flawless appearance. The article notes that celebrities are less likely now to undergo surgical procedures, opting instead to maintain a regular schedule of non-surgical aesthetic treatments that may include Botox, dermal filler injections, lasers, and ultrasound/radio frequency. (see: goo.gl/Hza1kY)
"Earlier this month, I demonstrated our Celebrity Facelift live on Good Day L.A.," says Dr. Simon Ourian, Medical Director of Epione Beverly Hills. "It is a combination of non-invasive treatments designed to prepare our celebrity clients for the red carpet."
According to the W Magazine article, celebrities are instructed to start caring for their skin as early as possible and that 20-something actresses now treat their skin the way a 40-year old actress might have in the past. Sunscreen and Retin-A use is ubiquitous, saving the skin from the damaging rays of the sun and repairing minor damage along the way. With less damage to address, treatment can be focused on maintaining tight and firm skin and eliminating fine lines and wrinkles.
"The article notes that the natural look is now in, but that has always been the aesthetic philosophy of our clinic," says Dr. Ourian. "I never want anyone to look 'done,' and with the tools now at our disposal there's no reason for that to happen."
Dr. Ourian has been a pioneer in laser technology and non-invasive aesthetic procedures including Restylane, Juvéderm, Radiesse, Sculptra, and CoolSculpting. These treatments are used for the correction or reversal of a variety of conditions such as acne, acne scars, skin discoloration, wrinkles, unwanted fat, stretch marks, varicose veins, cellulite, and others. More information about celebrity facelifts can be found on Epione's website.