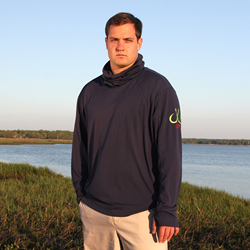 "These shirts catch fish!" Captain Grant, Offshore Fishing.
Hewlett, New York (PRWEB) January 29, 2015
Montauk Tackle Company Inc. known for their American made performance sportswear has unleashed their new high-tech Funnel Neck performance shirt.
The Funnel Neck is designed with the same comfortable, breathable technology enhanced fabrics Montauk Tackle Co. has become known for. 50+ UPF sun protection, moisture wicking transporters for drying, stain release technologies and an anti-microbial treatment that prevents odor-causing microbes provides both protection from the sun and endurance for longevity.
"Classic designs that are tried and proven that utilize modern fabric technologies allowing our customers to enjoy the great outdoors longer is paramount in everything we do" says Ron Cesark, Montauk Tackle Company's President and CEO.
The unique funnel neck can be used three different ways, it will fit securely over the bridge of your nose with enough tension to hold like a performance scarf to protect your face from the harsh rays of the sun, it can be pulled up over your head as a snug hoodie for extreme protection, or just hang loosely with style around your neck. The Cuffs are designed with a yoga style thumbhole for extra hand protection from the elements as well.
Having a piece of equipment like this is crucial for both performance and protection. It is built to protect against the most extreme heat, but is breathable enough for the user to perform to the best of their ability. Whether the user is stand-up paddle boarding, fishing the Flats of The Florida Keys or sailing in the elements of nature.
Two classic colors are available RT27 Navy and Storm Grey. "Classic, Clean, Functional American design includes classic colors" says Mr. Cesark.
About:
Montauk Tackle Company, Inc. is an American Made Performance Sportswear Company with clean, classic, functional American design that embodies the active outdoor coastal-living lifestyle. A privately held company founded in 2007 on Long Island, New York.
Contact Information:
Contact Person: Ron Cesark
Company Name: Montauk Tackle Company, Inc.
Company Address: 1717 Broadway, Hewlett, NY 11557
Telephone Number: (646) 261-0069
Email Address: ron(at)montauktackle(dot)com
Website Address: http://www.montauktackle.com