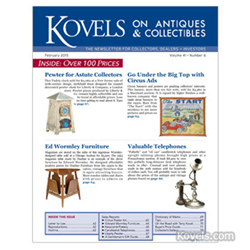 Cleveland, OH (PRWEB) February 02, 2015
"Kovels on Antiques and Collectibles" has a new, fresh and easy-to-read look. You will notice new fonts, new graphics and even a refreshed logo.
What hasn't changed? We are still your one-stop-shop for invaluable information on antiques and collectibles. The pages will remain packed with interesting tidbits about the objects you love, auction highlights, current prices and insider tips.
We celebrate our new design looking at advertising during the bygone days of the circus, and learning the clever design and demand of Edward Wormley's furniture. You'll also want to read about what makes Arts & Crafts Tudric pewter so collectible right now, the allure of candlestick telephones and much more!
Arts and Crafts pewter pieces made early in the 20th century by Liberty & Co. of London were sold at auction in New Jersey. See a pewter clock with enamel decoration designed by Archibald Knox that sold for $4,062, as well other pewter and pewter-mounted glassware in the popular "Liberty style," along with descriptions and prices. Circus banners and posters with colored graphics meant to dazzle were sold at a Maryland auction, where circus aficionados paid $95 for a Ringling Brothers Barnum & Bailey poster and $3,776 for an 11-foot "Last Mile & Death Row" sideshow banner. Step right up and read all about it—pictures, descriptions and prices are in Kovels' February newsletter. Edward Wormley designed affordable modern furniture from the 1930s to the 1960s and his pieces are again attracting buyers. Prices for Wormley items sold at a fall Chicago auction ranged from $2,000 to $15,000. Kovels' February issue pictures some of his clever tables and chairs.
"Potbelly" and "oil can" candlestick telephones as well as other upright tabletop phones brought high prices at a Pennsylvania auction. A rare 1903 desk telephone with a sunburst dial went for $11,400, and a candlestick telephone covered with hammered copper by Roycroft brought $8,400. There are more antique and vintage phones to talk about in Kovels' February newsletter. Newcomb art pottery, made at Tulane University's women's school, Newcomb College, from 1895 into the early 1940s, is bringing high prices for collectors. Many pieces sold in the four to five digit range at a recent New Orleans auction and Kovels' newsletter pictures and prices some of the best examples. And a recent Boston auction appealed to the gentleman collector with some unique and luxurious guy-centric objects. A bronze race car sculpture, an antique gold pocket watch and a midcentury duck decoy are among those found in Kovels' February issue.
Terry Kovel shares her favorites from the Art Basel and Design Miami shows in Miami Beach. The popular illustrated Collector's Gallery answers readers' questions about a toy tractor, milk glass globe, Howdy Doody cookie tin and silver citrus peeler. February's Dictionary of Marks features English majolica makers. The Buyer's Price Guide has current prices of dozens of antiques and collectibles.
"Kovels on Antiques and Collectibles" is available as a print subscription or as a digital version that is part of the Kovels.com Premium subscription.
About Kovels.com
Kovels.com, created by Terry Kovel and Kim Kovel, provides collectors and researchers with up-to-date and accurate information on antiques and collectibles. The company was founded in 1953 by Terry Kovel and her late husband, Ralph. Since then, Kovels' Antiques has written some of America's most popular books and articles about antiques, including the best-selling "Kovels' Antiques and Collectibles Price Guide," now in its 47th edition. The website, Kovels.com, online since 1998, offers more than 1 million free prices, and includes a free weekly email, "Kovels Komments." It gives readers a bird's-eye view of the market through the latest news, auction reports, a Marks Dictionary, readers' questions and answers and much more.
Contact Information:
Liz Lillis
216.752.2252
Pr(at)kovels(dot)com