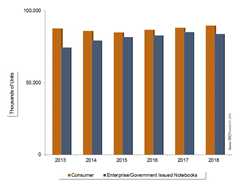 Businesses are realizing that tablets are not the notebook replacement they once believed. As enterprise mobility continues to evolve, the notebook will remain the workhorse of devices for the foreseeable future.
Natick, MA (PRWEB) January 29, 2015
The use of mobile devices to support line-of-business workers across numerous sectors continues to grow as organizations benefit from an increasingly connected and productive workforce, according to VDC's most recent research (click here for more info) . Industries continue to internalize the benefits of a mobilized workforce, as data from VDC shows an anticipated average increase of mobility-based budgets for 2014 of 10.6%. Although mobile workers will continue to leverage a variety of form factors including smartphones, tablets, and notebooks, the overall durability and resilience make this form factor increasingly desirable. VDC anticipates that the enterprise notebook market will continue to grow, reaching almost 80 million units in 2014 – nearly half of the total notebook market. While the market has matured considerably, it is still far from the "post-PC" erosion predicted by many.
After a particularly soft year in 2013, overall notebook performance rebounded in 2014, especially in the enterprise sector. Much of the momentum came from the retirement of Windows XP, which forced many organizations to upgrade their installed base, while others either scaled back or placed tablet initiatives on hold in favor of notebooks. VDC expects the upgrade cycle will continue well into 2015 with the anticipated launch of Windows 10 to provide an additional uplift, albeit at a lower year-on-year rate. However, this will likely remove any incentive for enterprises to consider further deployments of Windows 8.1, whose reception has been lackluster both among consumer and enterprise markets alike. Although enterprise notebooks are primarily the domain of Windows, Apple's presence continues to grow, with the iPad and iPhone serving as key gateway for OS X. VDC estimates that Apple's share of the enterprise notebook market will reach 7.5% in 2014, especially with growing support of Windows applications on iOS and OS X making the inclusion into IT solutions an increasingly viable option.
VDC estimates that, of the 80 million notebook shipments to the enterprise in 2014, approximately 28% – or 22 million units – were deployed in support of line-of-business applications. These applications range from field-based insurance adjusters and sales agents to service technicians and hospital care workers. An additional 440,000 rugged notebooks are forecast to ship in 2014, primarily supporting line-of-business workers in public safety, military, and industrial markets. "While notebooks have rebounded from the lows of 2013, the use cases in enterprise and government are fairly mature," says David Krebs, Executive Vice President. "As a result, much of the opportunity in 2014 and into 2015 will be limited to replacement and upgrade sales with the retirement of Windows XP." Much like the overall notebook market, the rugged notebook market is emerging from a period of significant contraction in 2013 and the first half of 2014. Demand began to gain momentum toward the second quarter of 2014 with the increased rate of modernization to upgrade aging installed bases. However, overall, rugged notebook unit growth through 2018 is expected to be modest at 2.9% annually.
About VDC Research:
VDC Research is a leading technology market analyst firm covering the connected world, focusing on embedded devices and enterprise mobility. Founded in 1971, the firm provides critical market intelligence to the world's leading technology vendors, who rely on its analysts for the data, ideas, and insights they need to make impactful strategic decisions with confidence.