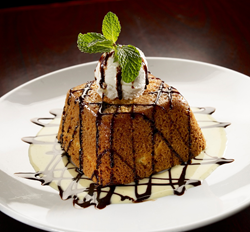 We're planning a very special Valentine's Day at Arrowhead Grill.
(PRWEB) January 29, 2015
Arrowhead Grill sets the stage for romance this Valentine's Day with an enticing evening of culinary delights on Saturday, February 14, from 4 to 10 p.m.
Valley couples can find romance with Arrowhead Grill's Decadent 3-course Valentine's Day dinner for $69.99 per person. Reservations are required and can be made by calling (623) 566-2224.
The romance begins with the choice of an appetizer. Couples will choose from shrimp cocktail, colossal sweet shrimp chilled on dry ice and served with cocktail sauce and remoulade sauce, pretzel fondue, or Rhode Island style calamari, tempura-battered squid mixed with cherry peppers and baby corn tossed in light citrus vinaigrette.
The second course includes the choice of a chopped salad, mixed greens, iceberg and Romaine lettuce with heirloom tomatoes, or Caesar salad, Romaine lettuce tossed with tangy garlic vinaigrette dressing with a hint of anchovies and topped with croutons and Parmigiano-Reggiano cheese.
Enticing entrée choices include AG's famous 10-ounce Delmonico steak, an 8-ounce New York strip steak, a half-rack of decadent lamb, a 10-ounce portion of tender prime rib or a roasted half chicken or salmon.
Seafood lovers will enjoy the option of adding an 8-ounce lobster tail or 8-ounce Merus crab legs to their meal for $20 each.
Each dinner includes the choice of a side. Guests can choose from creamed corn, creamed spinach, sautéed broccoli, mashed potatoes, AG mashed potatoes, sautéed mushrooms and caramelized sweet onions and asparagus.
Couples can bring a new level of sophistication to their dining experience with Arrowhead Grill's exceptional wine list recognized by the Wine Spectator with the Award of Excellence for 2014. Arrowhead Grill's expert serving staff is available to suggest ideal wine pairings for every course and selection.
"We're planning a very special Valentine's Day," said Chef Charles Schwerd, owner of Arrowhead Grill. "With our beautiful, new interior and patio, subdued lighting and decadent dishes, couples are sure to experience a wonderful night of romance at Arrowhead Grill."
For the ultimate Valentine's Day dining experience, Arrowhead Grill will offer a prime selection of desserts, including AG's own butter cake, its decadent flourless chocolate cake, strawberry and chocolate fondue, or strawberry or raspberry cheesecake.
Reservations for Valentine's Day at Arrowhead Grill can be made by calling (623) 566-2224.
For more information about Arrowhead Grill visit http://www.arrowheadgrill.com. To get the latest news about events, wine tastings and dinners, follow Arrowhead Grill on Twitter at http://www.twitter.com/arrowheadgrill and on Facebook at http://www.facebook.com/arrowheadgrill.
Known as one of the Valley's best steakhouses, Arrowhead Grill is located at 8280 W. Union Hills Dr. (Loop 101 and Union Hills) in Glendale.
About Arrowhead Grill
Established in 2008 by renowned Valley chef Charles Wade Schwerd, Arrowhead Grill epitomizes Schwerd's two decades of steakhouse experience, offering Valley residents a diverse menu of top quality steak and seafood. Featuring all natural meats and fresh, mercury-free seafood selected especially for Arrowhead Grill, the Glendale-based restaurant offers something for everyone in a sophisticated setting. For more information, please visit http://www.arrowheadgrill.com.