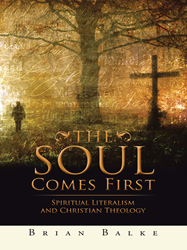 God created earth as a place to allow us to heal ourselves.
LOS ANGELES –
(PRWEB) January 30, 2015 -- As a PhD. holder in particle physics, Brian Balke views the world through a different spiritual lens than most.
This unique vantage point has allowed him to make profound connections between his Christian beliefs and the scientific world.
Balke's new book, "The Soul Comes First" focuses on the Bible not as a justification of faith, but as the history of a focused effort to transform human nature so that we can do a great spiritual work.
"A flawed humanity is not the source of all evil in the World, but actually the best hope for its healing," Balke said. "God created earth as a place to allow us to heal ourselves; he reaches out with the infinite power of unconditional love to help his children."
For more information, please visit http://www.everdeepening.org.
"The Soul Comes First"
By Brian Balke
Price: $22.95
ISBN: 978-1-4907-3846-8
Available at: Amazon, Trafford and Barnes and Noble online bookstores
About the Author
Dr. Balke received his Ph.D. in high-energy particle physics from U.C. Berkeley in 1987. He has worked in the fields of physics, environmental science and software development for machine control and business systems. However, the overarching intellectual concern of his life has been understanding love as a philosophical, practical and spiritual principle. Dr. Balke has two amazing sons and hopes that his work will provide support to their generation as they struggle with the problems they have received from the past.
###