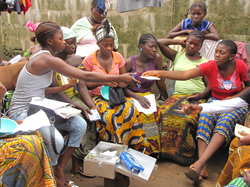 "This experience has been significant for me because my status has changed; I've gained a level of respect in my home, my family, and my whole village." - Fati, youth participant from Niger
Toronto (PRWEB) January 29, 2015
The United Nations Population Fund recently reported that the number of the world's youngest citizens has reached a record high of 1.8 billion. Yet according to the report, in 2013, more than 73 million youth between the ages of 15 to 24 faced unemployment – an urgent and growing global challenge, especially in developing countries.
An innovative project led by Plan International Canada and The MasterCard Foundation has worked to change this reality through social and economic empowerment. As Canada looks to mark International Development Week (Feb. 1 to 7, 2015), Plan Canada is highlighting an initiative that has made a difference in the lives of thousands of West African youth.
Over four years (2010 to 2014), the youth microfinance (YMF) project engaged 89,000 young people in Senegal, Sierra Leone, and Niger – 85% of whom were female – to lead and manage a community-based approach to microfinance. This meant that youth were able to access small loans and savings while also developing a variety of life skills, including education in basic numeracy, financial literacy, reproductive health, human rights, and gender equality.
Through this project, Senegalese participants, like Aissatou, have been able to build their leadership and communication skills, and in turn, receive more respect from peers and the broader community.
On joining the local youth savings and loans association, Aissatou said, "My responsibilities within the group have enabled me to better understand the roles and responsibilities of a leader. Thanks to the support of the [YMF] project, I now know how to chair a meeting, ensure our internal regulations are respected, and communicate effectively… I am included in my family meetings in spite of my young age and I get much more respect from adults in the village."
Plan works with local partners and a microfinance service provider for the project, which give youth access to basic financial education and life skills. This initiative has enhanced young people's chances of a successful transition into adulthood through direct participation in decisions that affect their lives, enabling them to break the cycle of poverty.
For example, in Niger, community volunteer and peer educator Fati helped mobilize 15 youth savings and loans groups during the course of the YMF project. In addition to actively engaging her peers, Fati has used her increased knowledge in finance management to support her family. With small loans, she has been able to buy and sell livestock such as sheep and poultry – a valuable means to send her daughter to school.
Many participants like Fati and Aissatou have expressed improved self-esteem and greater confidence after their involvement in the project. "This experience has been significant for me because my status has changed; I've gained a level of respect in my home, my family, and my whole village," Fati said.
Despite the gains of the project, there have also been some difficult setbacks for youth participants due to the current Ebola crisis. In Sierra Leone, some group members have had to use their limited savings for medical expenses or to support families dealing with the loss of loved ones. These young entrepreneurs have had to stop attending school and now lack the resources to continue operating their small businesses. While the impact of Ebola on youth and their families in parts of West Africa has been devastating, Plan will remain committed to helping communities overcome the challenges brought on by the Ebola epidemic through humanitarian response efforts.
When equipped with the appropriate skills, knowledge, and resources, youth have the potential to claim their rights, make significant transformations in their lives, and become engaged and productive global citizens. With so many youth on the planet facing an uncertain future, the right investments and opportunities can make a world of a difference.
About Plan and the Because I am a Girl initiative
Founded in 1937, Plan is one of the world's oldest and largest international development agencies, working in partnership with millions of people around the world to end global poverty. Not for profit, independent and inclusive of all faiths and cultures, Plan has only one agenda: to improve the lives of children. Because I am a Girl is Plan's global initiative to end gender inequality, promote girls' rights and lift millions of girls – and everyone around them – out of poverty. Visit plancanada.ca and becauseiamagirl.ca for more information.
-30-