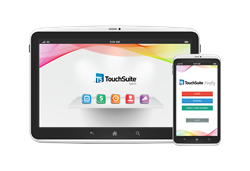 We only thrive when our customers do, so the more money we can save them and profits we can help them to earn, the more successful we will be.
Boca Raton, FL (PRWEB) January 29, 2015
TouchSuite, one of America's fastest-growing technology and payment processing companies, has announced it will be giving away complimentary tablets during the upcoming iBeauty Show South Florida at the Fort Lauderdale Convention Center, as part of its exhibition at the leading annual beauty trade event. Throughout the two-day event, which takes place March 15-16, 2015, the South Florida-based company will be offering free, salon software-loaded tablets* to any attendees that visit its Booth #120, demo the software and fill out a short form to activate the corresponding merchant processing account, which is guaranteed to meet or beat their current processing rates.
"For years now, our team of developers have been focused on building the most advanced, efficient, and affordable business solution possible for the salon and spa space, and we're so excited to now be in the position to be able to provide the resulting technology to industry representatives for free- right here in our backyard- at the South Florida iBeauty Show," said TouchSuite founder and CEO Sam Zietz. "We only thrive when our customers do, so the more money we can save them and profits we can help them to earn, the more successful we will be."
With a Firefly demo starting up every 20 minutes at the TouchSuite booth, salon owners, booth renters and stylists will have plenty of opportunities to explore the software and receive their tablets. The required corresponding merchant processing account also provides salon and spa businesses the opportunity to receive the guaranteed lowest possible rate for credit card processing, creating the potential for 25% increase in profits through the combination of free state-of-the-art software and technology, and savings in payment processing. A special, exclusive offer will also be available to attendees that want to upgrade from the tablet software to the full system.
The Firefly point of sale system and its corresponding mobile application are customized primarily to support salon and spa stylists who require a portable solution that allows them to easily execute client transactions from anywhere within the salon and allows them to run their business beyond salon walls. The intuitive solution packs unprecedented performance into a sleek, modern unit, equipped with an integrated credit card reader, built-in speakers and plenty of USB and serial-based ports. Designed as a seamless, single-unit solution, the system converges key business tools and solutions, including online booking and appointment setting, client database management, document management, an advanced, comprehensive marketing suite, social media integration, inventory control and accounting reports, and now, mobile accessibility and synchronization. For more information about The Firefly for salons and spas, please visit http://www.TouchSuite.com/firefly or call 800-793-3203.
TouchSuite is one of America's leading technology companies focused on the electronic payment space and has been honored six times on Inc. Magazine's list of the 500 fastest growing private companies in America. Its award-winning, patented point of sale systems are fully integrated with payment processing and credit card services catering to restaurants, salons and spas. The systems are designed to help small- and medium-size merchants increase revenue by using the provided tools and solutions. The company's latest salon POS system, Firefly, offers the most advanced salon software on the market to-date, including full mobile capabilities. TouchSuite's sales infrastructure provides merchants and agents with an unprecedented 24/7 support system and ensures a positive user experience. TouchSuite is headquartered in Boca Raton, FL. For additional information about TouchSuite, its company and services, please visit http://www.touchsuite.com.
The South Florida iBeauty Show is South Florida's number one education sales event for current and aspiring beauty professionals. The show takes place at the Fort Lauderdale Convention Center on March 15-16, 2015, where exhibitors will be displaying, demonstrating as well as selling their products and services for 2015. The goal of the iBeauty Show event is to offer the latest and best education and products to industry professionals. Many exhibitors offer educational seminars and demonstrations throughout the event, both in Convention Center classrooms and on the selling floor. Classes will be complementary and given in both English & Spanish. iBeauty's main stage extravaganza brings an aura of talented artists to round out the annual show.
*The free tablets will be available on a first-come, first-serve, while supplies last.