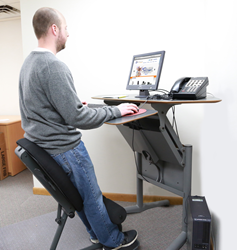 We were particularly attracted to HealthPostures for two key reasons: the designs of their products are excellent from an ergonomic standpoint and the fact that they are North American also played a big role
Burnsville (PRWEB) January 29, 2015
North American recognized ergonomics designer, HealthPostures , announces that Canada's Ergonomics Accessories, has become its new dealer. HealthPostures' products that Ergonomics Accessories will stock and carry include the bestselling 6100 TaskMate Executive, 6300 TaskMate Go, 6200 TaskMate Journey, 6360 TaskMate Go Laptop and the 5000 Stance Move.
Built to offer increased worker productivity, improved energy and better office space comfort, HealthPostures' products are a natural progression to Ergonomics Accessories' inventory line. David Marshall, Ergonomics Accessories' executive, shared that his firm inked the deal because, "We were particularly attracted to HealthPostures for two key reasons: the designs of their products are excellent from an ergonomic standpoint and the fact that they are North American also played a big role."
When asked about its top selling ergonomics products, David said, "Sit to stand products are quickly becoming the fastest growing; keyboard arm/platforms remain a staple in our line. Monitor arms have shown steady growth from the first introduction of the flat panel some 14 or so years ago." He continued, "Proper seating remains an important priority even for those that stand for a portion of the day."
Since 1989, the year Ergonomics Accessories was founded, HealthPostures and its new dealer have had to adapt to changes impacting the workspace equipment industry. The top three changes that they have faced deal with equipment design, monitors and posture. Specifically, David said, "Transition from a typewriter dominated workstation to PC with keyboard and later PC with keyboard and mouse demanded that desk heights change. Most 'typing returns' were at 26 inches to adjust for the fact typewriters were four to six inches in height."
Another pressing change was that organizations transitioned from "large CRT monitors to flat panel monitors." Result was smaller workstations which, in turn, created challenges while also making monitors increasingly mobile. The third change that HealthPostures' and Ergonomics Accessories' designers have successfully responded to according to David is the "current trend toward varied postures including seated, partially standing and standing. This has created huge challenges in trying to utilize existing workstations and accommodate posture change." David says that, "HealthPostures has been an excellent resource in this challenge."
Although adapting to these changes can be costly for small business owners, there are viable workarounds. As David shares, "Certain changes don't necessarily cost money. There are a host of work flow and workstation setup changes that can improve ergonomic and productivity performance. On the ergo equipment investment front, there are solutions at virtually every budget imaginable."
For entrepreneurs seeking a solution to their workplace challenges it is important to remember that, "Outfitting a workstation or entire company with ergonomics in mind is a journey not a destination." Business owners should, "Start small and progress as needs increase." HealthPostures and Ergonomics Accessories new dealer partnership aims to make it easier for business owners to effectively take this approach.
About HealthPostures
HealthPostures LLC (https://healthpostures.com) builds rehabilitative and ergonomic equipment that helps people to stay healthy while they work. The firm has been designing and manufacturing ergonomic sit stand solutions since 1996. Part of the company's mission is to "strive to provide quality products that will help transform your sedentary life so you have a healthy way to work." Office solutions sit stand products Health Postures designs and manufactures include dual monitor sit stand work stations, adjustable mouse stands, dual monitor arm accessories, Stance move seat extensions, industrial surface Taskmates and Stance Move chairs.
Contact:
HealthPostures LLC
14310 Ewing Avenue South, Suite 100
Burnsville, MN 55306
800-277-1841
https://healthpostures.com
About Ergonomics Accessories
Founded in 1989, Ergonomics Accessories (http://www.ergonomicaccessories.com) focuses on products that improve workplace safety and comfort. The majority of the company's products are accompanied with a form of quick ship. Orders are processed within 24 hours of being received. Products carried by Ergonomics Accessories include keyboard arms, platforms, radial and lateral monitor arms, document holders, adjustable work surfaces, seating, lighting and adjustable tables.
Contact:
Ergonomics Accessories
1166 Gorham Street, Unit 2
Newmarket, Ontario
L3Y 8W4
888-374-6666
http://www.ergonomicaccessories.com
Sources:
http://www.ergonomicaccessories.com