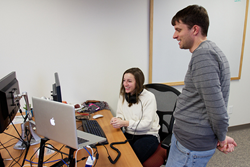 Astro can give students a perspective only professionals can give.
Durham, NC (PRWEB) January 29, 2015
The University of North Carolina School of Journalism and Mass Communication is helping their students stay ahead of the big data trend by partnering with leading tech firm Caktus Group and their new code school, Astro Code School. Caleb Smith, a Caktus developer and Astro Lead Instructor, is teaching Advanced Interactive Development (J583), a course that teaches undergraduate and graduate students how to build interactive data visualizations that can support their stories.
"People call media specialists with app-building skills 'unicorns,' but UNC journalism school has in recent years produced a lot of these types of graduates," says Mr. Smith. "I'm excited for the opportunity. I hope to instill a passion for using interactive media as a creative medium for storytelling."
The course, led by Mr. Smith, continues UNC journalism school's preeminence in interactive storytelling. The school has won SXSW Interactive Awards three years in a row. Additionally, they embrace technology in curriculum and culture by hosting hack-a-thons and sponsoring a joint program with the computer science department. The application development course provides an opportunity for students to learn from real-world processes, including best practice development, code quality, data modeling via SQL, Python, and Django.
"This industry and its challenges are constantly changing at a rapid pace, and our students need someone that works through those challenges everyday," said journalism school assistant professor Steven King. "Astro can give students a perspective only professionals can give. "
The technology strength of UNC journalism students has led it to become one of Caktus' top recruitment pools for paid semester and summer internships. Caktus is the nation's largest specialists in Django, an open source web framework originally developed for newsrooms. Clients include large media companies such as Discovery Communications and PBS.
Mr. Smith previously taught free programming courses to support the growth of women in technology for GirlDevelop It RDU, a local nonprofit. He was also a public school teacher. Mr. Smith will begin teaching at Caktus' Astro Code School after construction for the school at Caktus' offices is complete in Spring 2015.
###
About Caktus Group
Caktus Group is the nation's largest specialists in Django and RapidSMS, open source frameworks for web and mobile application development. Caktus builds custom apps that simplify information sharing for businesses and social good. Clients include UNICEF, PBS, Discovery, Mozilla, and the International Rescue Committee.
About Astro Code School
Astro Code School is the first code school specializing in Django on the East Coast. Founded by the
nation's largest Django firm, Caktus Group, Astro will launch in Spring 2015. Offerings will include weekend and 3-week workshops for beginners and on-site corporate training and 12-week trainings for intermediate and advanced individuals. The technology stack includes Django, Python, HTML, CSS, and Javascript.