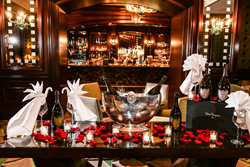 Washington, D.C. (PRWEB) January 28, 2015
This season, The Ritz-Carlton, Washington, D.C. invites guests to spend a romantic winter evening savoring one of the world's most popular flavors at the sinfully delightful, Chocolate Decadence Buffet. Executive Chef Yves Samake and Executive Pastry Chef John Quinn will transform the Lobby Lounge into a haven for chocolate connoisseurs with candy, cakes and tarts galore. Adding to your bliss, the Lobby Lounge's "Champagne Sommelier" will be available for guests who might fancy a flight of champagne.
A Chocolate lover's paradise, Chocolate Decadence offers a variety of sumptuous chocolate desserts including: Hazelnut Chocolate Tarts, Triple Chocolate and Berry Cakes, Chocolate Raspberry Cheesecakes, Pistachio Cherry Cheesecakes, Tiramisu cups, White Chocolate and Raspberry Paris Brest, Chocolate Macarons, and an assortment of decadent chocolate cookies and candies.
Chocolate Decadence is available February 13th and 14th at 7:30 p.m. and is priced at $45 for unlimited desserts and a glass of champagne or champagne cocktail. Reservations are required, and can be made by calling Restaurant Reservations at (202) 974-5566.
For more information or reservations for The Ritz-Carlton, Washington, D.C., please call the hotel directly at (202) 835-0500 or visit http://www.ritzcarlton.com/washingtondc.
About The Ritz-Carlton Hotel Company, LLC
The Ritz-Carlton Hotel Company, L.L.C., of Chevy Chase, Md., currently operates 87 hotels in the Americas, Europe, Asia, the Middle East, Africa, and the Caribbean. More than 30 hotel and residential projects are under development around the globe. For more information or reservations, visit the company web site at http://www.ritzcarlton.com, and for the latest company updates, visit news.ritzcarlton.com. The Ritz-Carlton Hotel Company, L.L.C. is a wholly-owned subsidiary of Marriott International, Inc. (NASDAQ:MAR).
###