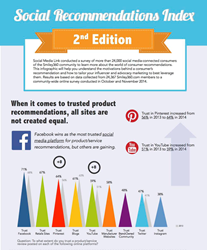 "During Valentine's Day when everyone is looking for trusted information on the best chocolates, flowers and restaurant recommendations from social circles, Facebook will carry the most credibility." Susan Frech, CEO of Social Media Link
New York, NY (PRWEB) January 29, 2015
Valentine's Day is approaching, and while love is in the air, consumers and brands alike are stepping up their online and social media game to be less up in the air about what is hot and what is not. The new Social Recommendation Index, an annual survey conducted by Social Media Link (http://www.socialmedialink.com) of 24,000 active users of social media, shows that Facebook and Pinterest continue to dominate the social media space for reviewing new products online. It also shows that reviews from retail websites and blogs continue to be highly influential.
When it comes to product recommendations, Facebook and Instagram lead the pack for product reviews and discovery, with Pinterest not far behind. 70% of respondents say they trust product reviews from people with whom they connect on Facebook and Instagram, and over 53% say they use these services to learn about new products. While trust in Pinterest increased from 56% in 2013 to 64% in 2014, Facebook remains the most trusted in consumers' minds as a reliable source of information about products.
With Valentine's Day gifts top of mind, over 69% of those surveyed trust online reviews for apparel and personal items, and 61% look to social media as a way to interact with their favorite brands. Additionally, the survey found that celebrity endorsements are less compelling for consumers in making product purchase decisions. This is a call to action for brands and retailers to use social outlets to directly connect with their consumers as a more effective way of promoting their products and services for Valentine's Day and throughout the year.
"During Valentine's Day when everyone is looking for trusted information on the best chocolates, flowers and restaurant recommendations from social circles, Facebook will carry the most credibility," says Susan Frech, chief executive officer of Social Media Link. Facebook has an unprecedented amount of socially active enthusiasts in its network and our survey found that 47% of respondents said that the number of reviews influenced their purchasing decisions," says Frech.
Follow Me and Find Me on Instagram
According to 75% of those surveyed, Instagram is a popular tool for following brands and keeping up with new product offerings and services on mobile. But respondents are selective on whom they follow, with 62% following fewer than ten brands. This is a relatively small window, which translates to consumers being extremely selective, about which brands they follow.
Personal Stories Better than Star Ratings
The most important facet of an online review is being able to relate to it. According to 93% of those surveyed, the most valuable reviews are those that contain personal stories. Beyond that, a list of pros and cons were also considered valuable, and simple "star" ratings less so. According to the respondents, special values and discounts motivate 60% to share information about a given brand.
Reviews Mostly Prompted by Good Experiences
The study also explored why people share their opinions online and found that a positive experience with a brand was a primary driver of online reviews, with 54% of users choosing Facebook as the platform to share their product experiences.
Additional Details

Respondents' Demographic Profile:
o 94% female, 6% male
o Mean age is 36 years old
o Age Breakdown:
- Under 18: 0%
- 18 to 24: 12%
- 25 to 34: 41%
- 35 to 44: 27%
- 45 to 54: 14%
- 55 and over: 6%
Survey Methodology
The Social Recommendation Index is an online quantitative survey, which was issued to all members within the Smiley360 (http://www.smiley360.com) community, an online community for consumers to experience brands and share their product feedback. The survey was issued in 2014 from October to November. 24,367 respondents from Smiley360's community answered the questions via an online survey.
For questions about the survey, please contact Jordan.Herrmann(at)socialmedialink(dot)com
Infographic With Survey Details
http://www.socialmedialink.com/blog/59
About Social Media Link
Social Media Link (SML) http://www.socialmedialink.com is the leading advocacy activation company that amplifies social media conversation for brands. The company makes it easy for brands to activate impactful and trusted reviews and recommendations across social media, triggering in-store action and leading consumers through the path to purchase.
SML's brand activation platform, Smiley360.com, is a social community for influential people who love brands. Marketers utilize the platform to activate targeted consumers to experience their brand and share reviews with the social networks they influence. Proprietary Single-Click SharingSM technology makes it easy for consumers to feed reviews to their most preferred social networks in one place, giving brands enormous exposure in social channels from passionate consumers.