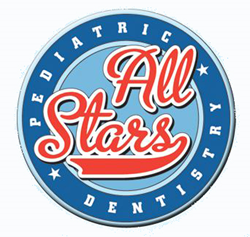 We value each child for their individuality and unique personality
Cuming, Georgia (PRWEB) January 30, 2015
It's "All Smiles" at All Stars Pediatric Dentistry! Since 2011, Dr. John Haffner and his team have had a very successful practice, earning them the title of Best Children's Dentist in Forsyth County. By combining professional education, childhood memories, and a passion for helping children, All Stars Pediatric Dentistry is a "boutique-like" practice where each child is valued for their individuality, and unique personality.
It is no surprise that All Stars Pediatric Dentistry received this title. One patient's mother states, "You can tell Dr. John and the staff simply enjoy working with children. My oldest manages autism and the youngest is a typically active two year old. The staff knows how to switch gears, get my kids' attention, and give treatment while having a good time." Eva T., another patients mother says, "When my children came for their first visit, my youngest son was very anxious and unsure after having negative dental experiences in the past. Dr. John and his staff worked so patiently and kindly with him that his exam and cleaning went off without a hitch. Now when it is time for another check-up, he gives a loud "YAY" and can't wait for the day of his visit. All 4 of my children have had such positive experiences and wonderful care with AllStar Dentistry. I am so very thankful they will not grow up to be afraid of the dentist like their mother. Thanks so much, Dr. John!"
Five of the top reasons to visit All Stars Pediatric Dentistry:

The dentist is always Dr. John, no substitutes or surprises.
Respect of the parent's time. Barring a patient emergency, all scheduled appointments are on time.
Patient education. Discovering cavity-causing plaque, reviewing food choices, and brushing skills are part of each preventive care visit.
The Golden Rule. Taking interest in each child, their personalities and preferences, is an important part of any dental visit.
Stay up-to-date. Maintaining highest treatment standards is vital to patient success and satisfaction.
If your child is one or older, call All Stars Pediatric Dentistry today and schedule an "age-appropriate visit" to help them have a lifetime of "Look, Mom! No Cavities"
Dr. John says, "Thank you for voting for All Stars Pediatric Dentistry as your #1 Children's Dentist in Forsyth County! We are proud to be a part of the community, and hope to assist your children's dental needs for years to come."
For more information about Dr. John and children's dentistry, visit http://www.allstarschildrensdentist.com. For more information about the Annual contest, visit The Best of Forsyth.