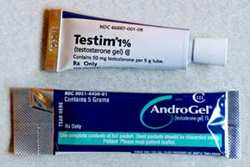 To discuss filing a testosterone therapy lawsuit, please contact Alonso Krangle LLP at 1-800-403-6191 or visit our website, http://www.FightForVictims.com
New York, NY (PRWEB) February 02, 2015
Alonso Krangle LLP has filed a Testim Testosterone lawsuit on behalf of a Maryland resident who suffered an ischemic stroke and a heart attack allegedly as a result of taking Testim a low testosterone therapy treatment drug. The "Low T" therapy Testim lawsuit alleges the 62 year old man used the testosterone medication from August 2012 to July 2013. He suffered a stroke on or about April 2013 and then a heart attack in July 2013. The suit contends both cardiac events are due to his use of Testim. He was 62 years old at the time. The testosterone lawsuit adds that Auxilium Pharmaceuticals, which manufactures Testim, allegedly misrepresented the testosterone product as being safe and effective to treat "Low T" when in fact it causes serious medical problems. The Testim testosterone lawsuit complaint also accuses Auxilium of engaging in an aggressive consumer advertising campaign for Testim yet failing to provide appropriate warnings for consumers and health care providers about the potential risks or suspected rates of heart attack, stroke, deep vein thrombosis, pulmonary embolism or death as a result of using the testosterone product. As stated in a New York Times article, men who take take testosterone therapt drugs, "have been found to have higher rates of heart problems in some studies." The testosterone lawsuit was filed on January 19 in the U.S. District Court, District of Northern Illinois. (1:15-cv-00494) Filed Complaint
[ fda.gov/Drugs/DrugSafety/ucm383904.htm FDA Dec 2014]
[ fda.gov/Drugs/DrugSafety/PostmarketDrugSafetyInformationforPatientsand
Providers/ucm161874.htm FDA Dec 2014 ]
[ http://www.nytimes.com/2014/09/18/health/testosterone-drugs-fda.html?_r=0 ,
New York Times, September 17, 2014 ]
Lawsuit filings over testosterone replacement therapy products have been on the rise since the U.S. Food and Drug Administration (FDA) announced its investigation in January 2014 into the safety and effectiveness of all FDA-approved testosterone gels, creams, patches and injections that treat hypogonadism, or low testosterone levels in men with an underlying medical condition. The federal agency said it was launching its investigation after reviewing two observational studies. The first study, published in the Journal of the American Medical Association in November 2013, suggested that older men with underlying heart disease were at a 30 percent increased risk of stroke, heart attack and death if they took testosterone replacement therapy products. The second study reported an increased risk of heart attack in older men, as well as in younger men with pre-existing heart disease, who filed a testosterone prescription. According to the study, the heart attack risk for men 65 or older rose two-fold during the first 90 days following the first prescription. Younger men with pre-existing heart problems faced a two- to three-fold increased risk of heart attack in the first 90 days following their first prescription.
As pretrial proceedings for the testosterone litigation are underway in the U.S. District Court, District of Northern Illinois, court records show that low testosterone lawsuit filings continue to increase. The complaints filed over testosterone products such as AndroGel, Androderm, and Testim have risen from 274 in December to 282 as of January 15. The lawsuits have been filed on behalf of men, or their survivors who allege that they have suffered such side effects as blood clots, heart attacks, strokes and death after using prescription testosterone products including:

AndroGel
Androderm
Axiron
Delatestryl
Fortesta
Depo-Testosterone
Testim
[jpml.uscourts.gov/sites/jpml/files/Pending_MDL_Dockets_By_District-January-15-2015.pdf, January 15, 2015]
[jpml.uscourts.gov/sites/jpml/files/Pending_MDL_Dockets_By_District-December-15-2014.pdf, December 15, 2014]
Other Testosterone Lawsuits Being Filed
In addition to the Northern Illinois federal court, testosterone replacement therapy complaints are being filed nationwide in state courts, including California, Indiana, Missouri and Pennsylvania. On January 7, U.S. District Court Judge Matthew Kennelly, who is presiding over the testosterone litigation in the Northern Illinois federal court, issued a Case Management Order (CMO) that stated his goal to coordinate state court testosterone lawsuits with the federal litigation. To that end, Judge Kennelly appointed four plaintiffs' attorneys to serve as liaisons between the state courts and the Northern Illinois federal court. Judge Kennelly wrote in his CMO that he wanted to coordinate parallel and overlapping proceedings in the state and federal cases as a way of reducing costs and avoiding an unnecessary duplication of efforts. Judge Kennelly ordered the liaison attorneys to maintain a comprehensive and updated list of all low testosterone complaints filed in state courts and have regular contact with plaintiffs' attorneys in the state courts regarding the latest developments in the state court and federal court cases. (In re: Testosterone Replacement Therapy Product Therapy Litigation – MDL No. 2545)
Learn More About Filing A Low Testosterone Testim Lawsuit
If you or someone you care about suffered a heart attack, stroke or other heart problem while undergoing testosterone treatment with a product like AndroGel, Androderm, Testim or Axiron, you may be eligible to file a low testosterone treatment therapy lawsuit against the maker of the medication. To learn more about the legal options available to you or how to file a low testosterone Testim lawsuit, please contact the testosterone therapy lawyers at Alonso Krangle LLP by filling out our online form or calling 1-800-403-6191.
About Alonso Krangle LLP And Filing A Testosterone Therapy Lawsuit
Andres Alonso and David Krangle, attorneys with almost 40 years of collective legal experience, have focused their law practice on the handling of significant personal injury cases, defective drug and medical device litigation, construction site accidents, nursing home abuse, medical negligence, qui tam/whistleblower actions and consumer fraud cases. A nationwide law firm representing injured victims throughout the U.S., Alonso Krangle LLP is headquartered in Long Island, New York, with offices in New York City, and New Jersey. To discuss filing a testosterone therapy lawsuit, please contact Alonso Krangle LLP at 1-800-403-6191 or visit our website, http://www.FightForVictims.com