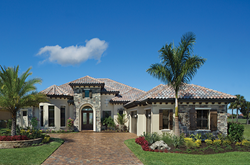 Tampa Fl (PRWEB) January 29, 2015
Why would a home builder publish an article on outdoor landscaping as blizzards and cold weather grip entire states? Because now is the time to talk about and start planning spring landscaping projects.
Also, many new home buyers also need to plan for their landscaping installation at multiple times during the year. Arthur Rutenberg Homes is a luxury custom home builder that regularly builds involved and expansive landscaping installations, so they have lots of knowledge to share.
The landscaping planning article covers not only concepts for how to select landscape features, but where to get advice and how best to start the process. In building and landscaping company planning, spring is right around the corner. Home owners who start to plan now often see the best results and experience the smoothest installations.
This is often due to both being able to take time for decision-making and being able to schedule installations crews in advance. Additionally, many landscape "features" like waterfalls, large rocks, outdoor kitchen material are able to be purchased at steep discounts if a blizzard is happening outside.
The landscaping article covers strategies for how to select plants and considerations for installation, like height, shadows plants and trees would cast and even neighbor considerations.
As consumers are snowed in, this article can be a great read to focus attention on the upcoming warm months.
Read the full article: Click Here