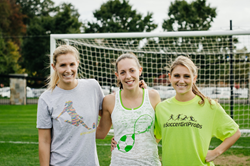 It was never about money," said Alanna Locast, 24, co-founder of SoccerGrlProbs. "It was about relating to people and they relating to us.
FAIRFIELD, Conn. (PRWEB) January 30, 2015
To think a company with $390,000 in sales last year started out just for fun.
That's how the founders of SoccerGrlProbs LLC described their first venture – a series of playful Tweets about being female soccer players. All then Fairfield University undergraduates Carly Beyar '14, Shannon Fay '14, and Alanna Locast '12 intended to do was make their Fairfield University women's soccer teammates laugh.
"We were just tweeting, saying funny things, hashtagging 'soccer girl problems,' " said Beyar, 22, who like Fay and Locast is from Long Island. New York. "We were inspired by everyone's complaints [about practice sessions, smelly soccer gear and weight training]. We soon had hundreds of followers. We don't know how it happened."
In just a few short years, the Twitter followers of @SoccerGrlProbs has gone from 100 to 190,000, and include Gatorade and Olympic gold medalists Sydney Leroux and Alex Morgan.
The SoccerGrlProbs team has also branched out with hilarious YouTube videos about soccer moms, and apparel with messages that strike a chord such as "I can't, I have soccer." Their story is one of how Twitter and YouTube accounts can help launch a business when it was not initially one's plan. Ultimately, their story is also one about how three young women's passion for a game fueled them to create social media channels that went viral amongst the international soccer community.
The SoccerGrlProbs' YouTube audience has now swelled to over 55,000 subscribers. They have 65,000 Instagram followers and 48,300 Vine followers. Moreover, Beyar, Fay, and Locast realized they have the potential to do with their lives what many only dream of: do what they love for a living. Their devoted audience has given them the confidence to make SoccerGrlProbs a limited liability company – its 2014 sales - its first full year of sales – were $390,117, with more than $65,000 in revenue coming in December.
Revenue comes mainly from their branded apparel – shirts, sweatpants, hoodies – that serve as a means of unifying soccer players around the world, complete with inspirational quotes, comedic language or unique graphics.
Popular items include a shirt that reads, 'It's not sacrifice if you love what you're doing,' and a 'SoccerMomProbs' shirt that touts: "I can't, I have to drive my daughter to practice."
Soccer star Leroux was sent a special breast cancer awareness sports bra created by the SoccerGrls and she posted a picture of it on her personal media page.
The SoccerGrl team has become stars in person too (and even attracted a long line of fans, many young girls, at a game between the United States women's national soccer team and France.)
Guiding the company's growth is the Fairfield University Accelerator and Mentoring Enterprise (FAME), a business incubator that is collaboration between Fairfield University, the Town of Fairfield Economic Development Department and Kleban Properties. An effort to nurture start-ups, FAME aims to offer innovators the tools they need – from guidance to funding to prime downtown office space behind the Fairfield University Bookstore – to turn their ideas into realities.
FAME mentor Dr. Chris Huntley, of Fairfield University's Dolan School of Business, said the company is just an extension of who the women are. "What they really want to do is right there in the SoccerGrlProbs name," said Professor Huntley. "They want to make the lives of young people better, to make the 'probs' go away for a little while. That's about a lot more than selling t-shirts. So, the goal is to build a sustainable 'lifestyle brand' around healthy living, having fun together, and building community. Expect them to spend more time doing nonprofit work after the World Cup this summer."
SoccerGrlProbs just signed with a company called FullScreen, Inc., 'the first media company for the connected generation.'
Also, SoccerGrls just "unlocked the NYC YouTube Space," leading to access to space that has impressive filming sets, workshops, cameras, equipment, and editing rooms.
Meanwhile, elementary and high school girls all over are fans.
And with that, the entrepreneurs have found a new calling. They see the company as a way to build community and encourage the well-being and positive self-image of young female athletes everywhere. Their plans include hosting youth clinics nationwide.
"We're kind of amazed that we could have a positive impact on young girls by just being ourselves – we are not trying to tell them to fit into a mold that society has come up with," said Fay.
"It was never about money," noted Locast, 24, who majored in biology. "It was about relating to people and they relating to us."