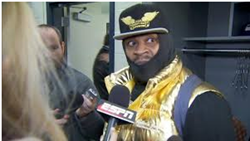 (PRWEB) January 29, 2015
Seattle Seahawk's enigmatic running back, Marshawn Lynch aka "Beastmode", made quite a statement by merely stating, "I'm thankful" to reporters after the team's January 10th defeat over the Carolina Panthers. The star player is known for not talking to press and is often fined for not cooperating.
However, his clothing choice of Robin's Jean gold winged baseball cap and metallic gold vest spoke louder than words. The video and quote have became the most viral meme of the new year!
Robin's Jean is very thankful for the star player! Since the press interview, the meme has garnered the brand a lot of attention. Robin's Jean website traffic has soared by 50%, and the gold vest and the signature gold winged cap are among the most requested items.
The brand will be rooting for Marshawn as the Seattle Seahawks take on the New England Patriots at Super Bowl XLIX on Sunday, February 1, 2015.
Founded in 2005 by Robin Chretien, the LA based premium denim brand sells jeans, leather belts, shoes, t-shirts, hoodies, and leather jackets for men, women and children. The brand's signature gold wing logo is an eclectic combination of modern biker style with Native American influences which symbolize freedom.
Robin's Jean is Made in the USA and there are currently five Robin's Jean stores in Beverly Hills, CA; Soho, New York; Laguna Beach, CA; Garden State Plaza, NJ, and Park City, Utah - the latest flagship location.