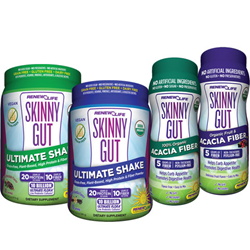 Renew Life Skinny Gut Ultimate Shake is the first certified organic shake that is also grain-free!
Clearwater, FL (PRWEB) January 29, 2015
"I am so proud to reveal this new line of quality shake and fiber formulas," announced Renew Life president and founder, Brenda Watson. "These products, along with lifestyle changes, help promote digestive system balance for healthy weight management. Our mission was to create superior quality, great-tasting shake and fiber formulas, full of all the benefits you want, and nothing that you don't," Watson concluded.
The First Certified Organic & Grain-Free Protein Shake
New Renew Life Skinny Gut Ultimate Shakes are a great way to help build muscle, support healthy digestion, and curb hungry appetites. Available in natural chocolate or vanilla, each delicious serving contains 20 grams of plant-based, grain-free, organic protein; 10 grams of organic acacia fiber, 10 billion probiotic cultures, digestive enzymes, vitamins, minerals, and antioxidants. The shakes do not contain any added sugar, preservatives, artificial ingredients, gluten, or dairy.
New Certified Organic Acacia Fiber Products
Renew Life introduces two new fiber products – Renew Life Skinny Gut 100% Organic Acacia Fiber and Organic Fruit & Acacia Fiber. Both formulas are certified organic, easy to mix, and provide 5 grams of soluble fiber per serving to promote digestive health and weight management. Acacia fiber is an excellent soluble fiber because it is a "prebiotic" fiber that promotes the growth of beneficial bacteria in the digestive tract. 100% Organic Acacia Fiber is flavor-free, and the Organic Fruit & Acacia Fiber is flavored with real organic fruit.
About Renew Life
A leader in natural digestive care, Renew Life Formulas was founded in 1997 by Brenda and Stan Watson on the premise that vibrant, lasting health can only be achieved with a properly functioning digestive system. The company offers a full spectrum of award-winning, digestive-care supplements, formulated from the highest quality ingredients derived from nature, with no added artificial ingredients. Renew Life stands behind the purity, potency, and efficacy of every product.
For additional information on Renew Life Skinny Gut nutritional supplements, please contact bcooper(at)renewlife(dot)com