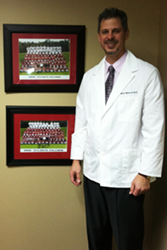 Athens, GA (PRWEB) January 28, 2015
People who suffer from receding gums in Athens, GA, can now visit Dr. Randolph Moore at his practice office in Buford for a new type of gum recession treatment, the Pinhole Surgical Technique™. This minimally invasive procedure introduces a low risk of bleeding, discomfort and infection. Patients see an immediate cosmetic improvement and reduction in sensitivity.
The Pinhole Surgical Technique™ does not require tissue grafting, Dr. Moore addresses gum recession by repositioning the receding tissue. Dr. Moore makes a pinhole in the gums and reaches through with a small tool used to gently loosen the tissue. Dr. Moore then pulls the gum line to a more natural position. Collagen strips, rather than sutures, help stabilize the new position of the tissue. The whole procedure takes less than 60 minutes. Dr. Moore can typically treat even severe cases of receding gums in one session, sparing patients from Athens, GA, from making multiple visits to his Buford office. After the procedure, patients usually can resume their normal activities within a day without taking any special precautions.
Gum recession may occur for various reasons, which is why Dr. Moore encourages patients to seek early treatment. In some cases, external factors, such as genes or hormonal changes, may be responsible for recession. However, the condition may also occur because of oral health issues such as aggressive brushing, inadequate hygiene, tooth clenching and grinding, poor tooth alignment and gum disease. When this is the case, Dr. Moore may recommend other treatments to address the underlying issue. Even when recession occurs for other reasons, the Pinhole Surgical Technique™ still benefits patients, as it can protect against the tooth sensitivity, trauma, mobility or decay that can result from increased exposure of the teeth.
People who need treatment for receding gums in Athens, GA, may notice several signs that gum recession is occurring. Changes in gum pocket depth, periodontal health and the apparent length of the teeth can all be visual indicators of gum recession. Physical sensations, such as tooth sensitivity or looseness, can also be symptoms. People who notice any of these signs are encouraged to call Dr. Moore's office or visit his website to schedule a consultation about gum recession treatment.
About the Doctor
Dr. Randolph S. Moore is a general dentist offering personalized dental care for patients in the Buford, GA area for over 20 years. Dr. Moore received his degree from the University of Alabama in Birmingham, and completed his residency at the Veterans Hospital in Birmingham. Dr. Moore is active in the dentistry field and is a member of the Georgia Dental Association, the American Dental Association, American General Dentistry, American Academy of Cosmetic Dentistry and ICOI (International Congress of Oral Implantologists). To learn more about Dr. Moore and his dental services visit their website at http://www.smilemooredentistry.com/, or call (770) 545-6141.