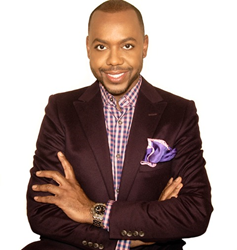 "Never let your fashion sense out shine your personality. The key is to make them blend harmoniously." ~AJ
Los Angeles, CA (PRWEB) January 30, 2015
AJ Johnson, Chicago's preeminent beauty and fashion expert who became known for his over-the-top and charismatic personality on the Style Network reality series "Chicagolicious," will star in an upcoming episode of "Celebrity Millionaire Matchmaker," airing Thursday, Feb. 19, 2015 at 10 p.m. PST on Bravo!
AJ has circumnavigated the globe, carving his path as a celebrity stylist, make-up artist, hair care professional and entrepreneur. From dressing the wealthy, powerful and famous to being a regular style contributor on various TV shows, AJ has earned national and international notoriety as a visionary style pioneer and is quickly becoming a premier style and beauty expert. He has been featured for his beauty and style expertise on "The Wendy Williams Show," "The Giuliana & Bill Rancic Show," "The Steve Harvey Show" and as a host for the non-profit organization Dress for Success.
Since establishing a thriving career AJ has shifted a portion of his focus to searching for love and recently enlisted Bravo's "Millionaire Matchmaker," Patti Stanger.
"Patti definitely worked hard to bring me out of my comfort zone and, in true AJ style, I resisted," AJ said of his "Celebrity Millionaire Matchmaker" experience. "In the end I think we reached some fabulous compromises including letting me break 'the mixer mold'--I think I brought a new and fresh take to the initial meeting with Patti's picks. It was a great experience but did I find love? You'll have to watch the episode to find out!"
In his search for love AJ has relocated from Chicago to Beverly Hills, California where he intends on taking Hollywood by style.
About AJ Johnson
AJ Johnson, CEO and Founder of House of AJ and former star of Style Network's reality TV show "Chicagolicious," began his career as an entertainment and celebrity stylist at his salon "AJ's of Chicago" which became synonymous with the Chicago beauty and entertainment industry since its opening in 1989. In 2009, he launched "12 Dresses by AJ," an elite clothing line featured in the Macy's Designer Trunk Show which earned the prestigious "Distinction of Design" award and in 2012 he launched 'AJ's of Chicago,' a hair and beauty product line. AJ's strong work ethic and determination have led him to expand his brand both nationally and internationally.
Today, AJ has circumnavigated the globe, carving his path as a go-to celebrity stylist, make-up artist and hair-care professional for the likes of Tyra Banks, Jennifer Hudson, Angela Bassett, Iman, Sherri Sheperd, Angie Stone, Jill Scott and Shaun Robinson of "Access Hollywood." From dressing the wealthy, politicians, powerful and famous to being a regular style contributor on various TV shows, AJ is quickly becoming the premier style and beauty expert. AJ has relocated from Chicago to Beverly Hills, California and intends on taking Hollywood by style. For more about AJ Johnson visit: http://www.houseofaj.com