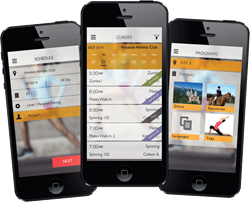 Empower your members to manage their account, register for classes and programs, schedule appointments, and much, much more!
(PRWEB) January 29, 2015
CSI Software announces Mobility, a mobile application giving users powerful features and facilities tools to engage a mobile audience. CSI Software says Mobility is a branded app written in native iOS and Android that will automate critical applications. The new app is fully integrated with SpectrumNG, the company's flagship management and accounting software. Mobility is a self-service application allowing customers to manage their account, search and book classes, schedule appointments, share through social media, and more. Mobility delivers a fast, clean and intuitive experience for customers now choosing mobile devices to manage their time and fitness.
Find out more about CSI Software's mobile app here.
Users can download the app from the App Store and Google Play and begin accessing a robust set of features that will speed connections and content to the device customers pay attention to the most, wherever they are. Mobility can be customized to meet each facility's specifications. Sophisticated yet simple, the app is loaded with the right SpectrumNG modules for getting the most out of existing data applications and facility revenue opportunities.
First, log in and explore everything Mobility has to offer. General features include a Feedback option and the Try Us feature that integrates with the SpectrumNG CRM application for quick lead follow-up. For multi-site facilities, Mobility allows users to pick the nearest facility location.
The Account Management feature offers several options for member self-service, including check-in, viewing reservations, updating basic demographics, as well as location-aware technology and Passbook integration for automatic bar code display.
The Classes feature allows members to find their favorite class or instructor, book a class, choose equipment, and select payment options.
The Bookings feature captures the basic data required for booking a perfect schedule. Personal Training, courts and other services can all be booked. They can also view and purchase packages using the Bookings feature.
Program Registration allows users to browse categories and programs that fit their needs and interests. An advanced search can locate a specific instructor, or a range of instructors based on a specific criteria. For flexibility, users can register themselves for a program, or their entire family.
Mobility demonstrates CSI Software's leading-edge commitment to mobile solutions, new capabilities and the future of business in the health and fitness industry.
About CSI Software: CSI Software provides fully integrated, single source enterprise software to health and fitness clubs, campus recreation centers, parks and recreation departments, wellness centers, hotels and fitness resorts, and JCC, YMCA and YWCA organizations.