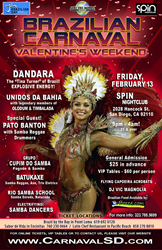 San Diego, CA (PRWEB) January 28, 2015
It will take place Friday, February 13, 2015, 9pm-4am at Spin Nightclub, located at 2028 Hancock St. Tickets are available for $25 in advance at http://www.carnavalsd.com. Expected attendance is 800-1000.
Brazilian Institute for Arts and Culture (BIAC), the non-profit organization that produces Brazilian Day, and Ariel del Mundo Productions, bring you the spirit of Brazilian Carnival with headliner artists, Dandara, and Reggae star, Pato Banton, and the bands, Cupin do Samba, and Unidos da Bahia.
This party will characterize carnival from popular yet distinct regions of Brazil. The first part of night will present the Rio de Janeiro and São Paulo styles with Cupin do Samba, a samba and pagode band based out of Los Angeles and DJ Vic Magnolia. The crowd will be animated with marchinhas, traditional ballroom style carnival songs, and enredos, rhythmic samba drum beats. The second part of the night will present carnival music from the northeast of Brazil. Unidos da Bahia, a band that features two lead singers, and former members from well-known bands out of Brazil, Olodum (Samba Reggae band) and Ilê Aiyê (Afro Brazilian band) fuse samba reggae, Afro-Brazilian and Latin beats. This high energy band will keep the crowd shaking all night, and will accompany headliner singers, Dandara, and Pato Banton.
The party will also showcase beautiful feathered samba dancers, a stunning Capoeira show, and large screens showing carnavals from Brazil. Refreshing Caipirinhas, the infamous Brazilian cocktails, and warm, mouth-watering salgadinhas, Brazilian finger foods will be served. Spin Nightclub has three different levels including a large dance floor, a balcony that overlooks the stage with comfortable seating, and an outdoor terrace. 50% of Carnaval ticket profits benefit BIAC projects and programs, promoting Brazilian arts and culture for community enrichment.
Line up
9-10 DJ Vic Magnolia
10-11Cupin do Samba
11-11:30 Capoeira and Samba Show
11:45-1:45 Unidos da Bahia with Headliners Dandara and Pato Bantan
1:45-4:00 DJ Vic Magnolia
For more information contact: Paulo Batuta (619) 867-3231; info(at)braziliandaysandiego(dot)com; Tickets http://www.carnaval.com