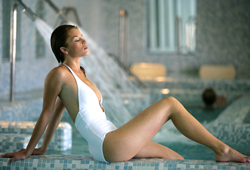 Best Master Planned Communities with Spa Amenities
Charleston, South Carolina (PRWEB) January 29, 2015
Seasoned and "in vogue" Baby Boomers know a good thing when they see it. Finding the perfect spa resorts to relax and celebrate the golden years is a top priority when approaching those retirement years. The "Zen" experience of a spa visit enhances the quality of life and improves an overall sense of well-being. Living the life of luxury is a blessing when residing in one of the best master planned communities who offer these services. When it comes to pampering, there are many resources available in some spectacular developments. Whether it's a "Fire and Ice Facial" or a "Hot Toddy for the Body", these anti-aging remedies rejuvenate the spirit and embellish the soul.
Spa services have become the norm when it comes to maximizing the "fountain of youth". Not only can these treatments enhance the skin and relax the body, they also have far reaching benefits that preserve a youthful appearance. Massages are invigorating and healing hands and aromatic oils loosen tight muscles, soothe the senses, improve circulation and nurture the spirit. In addition, facials provide result-driven skincare that allow health conscience folks the option to "turn back the years". Improving skin circulation, tone and eliminating the signs of aging is the key to sustaining longevity. These incredible spa offerings enhance the quality of life for those fortunate enough to live in one of these featured communities.
After perusing the best master planned communities that include spas within their neighborhoods, here's a list of ones that have ranked high on Real Estate Scorecard's list of notoriety in the "ultimate places to retire or have a second home."
#1 KIAWAH ISLAND - CHARLESTON SOUTH CAROLINA
Known as one of the top South Carolina destinations in the Lowcountry, Kiawah Island is often referred to as the "Hamptons of the South". Their pristine beaches and impeccable weather make this place a playground for those that enjoy the finer things in live. Healthy living is at the heart of the Kiawah lifestyle and the spas provide an environment in which people can retreat from the outside world and focus on personal health and wellness.
At Kiahwah Island there is the Sasanqua Spa at Kiawah Island which provides a total retreat to build body connections and strengthen the mind. Located on a peaceful peninsula overlooking the Kiawah River, this "luxury lowcountry" lifestyle offers the ultimate. Designed by Clodagh, one of the finest spa resorts exclusive to Kiawah Island Members offers rejuvenating treatments with ingredients from the surrounding region. Many celebrities choose to have a home here and Kiawah Island should definitely be on the top the list. In 2010, Kiawah Island was named the "2nd Best Place For Second Homes in the United States" by Barron's. But Baby Boomer's are catching the wave buying up homes in one of the best neighborhoods in Charleston SC.
#2 LOS SUENOS RESORT AND MARINA - QUEPOS COSTA RICA
Hidden in the pristine waters of the Herradura Bay is a luxury gated community in one of the finest places to enjoy Costa Rica golf packages near Jaco Beach, Los Suenos Resort and Marina in Playa Herradura, Puntarenas. Located between the exotic rainforest and the spectacular waves of the Pacific, this premiere spot is a 5-Star Marriott Resort with six bars and restaurants, a full service spa and shopping at the Marina Village retail complex. With the Stellaris Casino nearby boredom is not an option here. The Sibo Rainforest Spa and Retreat offers a vibrant place to experience the rainforest while enjoying "life-enriching" spa services available here. This all-natural setting enhances the treatments available including massage rituals, rejuvenating facials and body treatments as well as full service beauty services and a fitness center. Leaving Sibo one will feel revitalized and relaxed. The Los Suenos Sibo Fitness Center is open 24 hours a day, 365, and offers both indoor and outdoor activities for health enthusiasts. With jogging or walking trails, 2 tennis courts, golf and a fully equipped "Technogym", aging well is not a problem here. Ask us for information about the Costa Rica golf packages at Los Suenos.
#3 REYNOLDS PLANATATION - LAKE OCONEE GEORGIA
Next on the list is The Ritz-Carlton Lodge at Reynolds Plantation in Greensboro, Georgia. Overlooking Lake Oconee, the award winning gated community has 16 tennis courts, 6 pools, 14 miles of walking trails and a private 38,000 square foot wellness center at the Lake Club to insure that all fitness options are covered. Add to that, Reynolds Plantation also has spa services to insure the ultimate in living options. Accessible through The Ritz-Carlton Spa, The Lodge's Fitness Center provides state-of-the-art cardio-vascular fitness equipment, wellness classes and personal training. Spa Services include their specialty list of "Fire and Ice" massages that include such offerings as "Hot Toddy for the Body" and a "Spicy Couples Massage". To revitalize the skin, try the "Fire and Ice Facial" or replenish tired feet with a "Warm Stone Pedicure". When spa services are a priority, be sure to "put on the Ritz" when choosing that ultimate home at Reynolds Plantation.
#4 MIROMAR LAKES - ESTERO FLORIDA
The #4 ranking community found was in Estero, on the west coast of Florida. Miromar Lakes is a 5 star "South Beach" location that features lakefront homes and 3 miles of white sandy beaches. Lake Como and Lake Maggiore provide the perfect freshwater playground for boating, swimming and kayaking. In addition to its 2 austere clubhouses and an infinity pool overlooking the lake, there is also a full service luxury spa, fitness center, tennis and boating facilities. There is a 39,000 square foot beach club to boot! Through this award winning gated community entrance adventurers will find the Miromar Spa at Miromar Lakes with endless possibilities for the ultimate in self pampering. The European-Style spa offers services ranging from the ultimate in massage therapies, "take back time" facials, body cleansing wraps and salt-glow remedies as well as a full-service salon. Due to the exceptional weather this region has to offer, spa visitors have the option of choosing outdoor services in the serene and captivating "Zen" garden. When home shopping in Florida, make Miromar Lakes a priority.
#5 HAMMOCK BEACH RESORT - PALM COAST FLORIDA
Another Florida location making the list is Hammock Beach Resort located in Palm Coast, on the east coast of Florida. This northern resort-lifestyle is located between St. Augustine and Daytona Beach and serves as the perfect location for a vacation home. With golf courses designed by Tom Watson and a 44,000 square foot Golf Clubhouse, who could go wrong choosing this as the ultimate Florida location. This property also has 8 lighted tennis courts and even a 9-hole Championship Putting Course for the kids. The Yacht Harbor Village is also equipped with 209 boat slips for those who love water adventures. The 4,000 square foot Spa at Hammock Beach Resort is readily available and offers a variety of services for discerning residents. There are also 6 restaurants located on the property to entice the palate. Within the Spa at Hammock Beach Resort, maybe try the "Hammock Facial" or a "Teen Facial" for the young adults in the household. For those interested in "preserving that youthful appearance" a "Fit-n-Firm Facial", "Fountain of Youth Facial" or "Next Generation Antioxidant Facial" may be the answer. Even a quick 15 minute "Rejuvenating Lip Treatment" will take a doubt, out of the pout. To add a sparkle to the eyes, the "Dramatic Eye Lift Treatment" is a must. When it comes to body therapy, the signature "Hammock Massage", "Couples Massage", "Cinnamon Beach Feet Massage" or the "Back, Neck & Shoulder Massage" may be in order. Give it a try, at Hammond Beach Resort, the options are endless in the ultimate of lifestyle "tres chic".
#6 PALMETTO BLUFF - BLUFFTON SOUTH CAROLINA
One of the most popular South Carolina destinations in the Lowcountry, Palmetto Bluff is known for weddings and beach getaways. Considered a benchmark in living the ultimate lifestyle, this gated community combines privacy with history that dates back to 10,000 B.C. when early settlers found this "piece of paradise". With Hilton Head Island resources nearby, the smell of "salty air" will captivate those choosing this dream location. The 18-Hole Championship golf course designed by Jack Nicklaus and the 5,000 square foot May River Golf Clubhouse buffer the assets offered at The Inn & Spa at Palmetto Bluff. In addition, The Wilson Landing offers 80 boat slips and the Wilson Lawn & Racquet Club has 8 Har-Tru Tennis Courts to further compliment this property. The River House Fitness Center and Heated Lap Pool at the Spa are also added attractions at one of South Carolinas top spa resorts. The Longfield Stables found here is a full service equestrian center as well. The Canoe Club & Fitness Center comes complete with a Jacuzzi and kiddie pool and the property is on a 6,000 acre nature preserve. At Palmetto Bluff folks will find "The Cottage Spa" where exclusive pampering services are made available. The Canoe Club complex is a fitness arena with amazing views of the May River, an expansive saltwater pool, plentiful state-of-the-art fitness equipment and a bubbling Jacuzzi, who wouldn't want to call this place home in one of the best South Carolinas destinations.
#7 LONGBOAT KEY CLUB - SARASOTA FLORIDA
A superior choice for "health conscience" boomers is Longboat Key Club in Longboat Key, on the west coast of Florida. Surrounded by the emerald waterways of the Gulf of Mexico, this community is considered one of the top retirement communities in the region. This gated beach community offers condos and deepwater homes on the Sarasota Bay. With white sandy beach and over 5,000 palm trees this exotic location has amenities worth exploring. Featuring a 9,000 square foot Island House Full Service Spa and a 6,300 square foot Fitness Center, the pursuit to eternal youth is highly possible. At the fitness center are Pilates, yoga, and spin classes as well as cardio machines and weight training equipment. The Spa at Sarasota Beach Resort found at the Longboat Key Club is an Oceanside sanctuary of personal well-being. With 10 spa treatments rooms and over 50 "handcrafted" treatments designed to soothe and nourish the body and soul this luxurious resort offers it all. Special attention is given to personalize and tailor each service, these therapeutic massages, holistic body treatments and skincare techniques are imperative in keeping the entire body in "tip-top" shape. There are too many services to list but a pampering at this spa will make the home purchase easier knowing the resources are so close by. With a basis of belief that "wellness is the foundation for a rich and satisfying life", the spa encourages a nurturing relationship with the body promoting stress relief, better sleep, healthy nutrition and an overall balance of body, mind and spirit. Living here makes improving the quality of life a priority.
#8 THE CLIFFS AT WALNUT COVE - ASHEVILLE NORTH CAROLINA
The Cliffs at Walnut Cove in Asheville, North Carolina is a country club lover's paradise when it comes to providing the amenities for well-being and a friendly social environment. The 18,000 square foot wellness center is quite impressive and features vaulted ceilings with an indoor heated lap pool, and first rate cardio, strength training and fitness equipment, fitness classes, personal trainers and spa treatments. The Cliffs Communities residents have access to all 7 properties. Living here provides tremendous options for living a healthy and active lifestyle. The Spa services at The Cliffs at Walnut Cove are impressive and include massages, facials, Reiki and more. The Wellness Services at The Cliffs at Walnut Cove include personal training, body age assessments, nutrition and lifestyle consultations, sports performance programs as well as orthotics. This community also features a smoothie and snack bar to insure that folks sustain their energy while working out or enjoying the many spa services this location features. Property owners at the Cliffs Communities enjoy access to amenities at all seven master planned communities in the area. A brand new state-of-the-art wellness center at The Cliffs at Keowee Falls is scheduled to open in February 2015.
#9 THE LANDINGS CLUB - SAVANNAH GEORGIA
Located on the northern east coast of Georgia, The Landings Club is situated on Skidaway Island where saltwater boaters are drawn to the convenient ocean access. This super-sized neighborhood has a long list of amenities with 34 tennis courts, 40 miles of walking and biking trails as well as 6 Championship golf courses. In addition to the features intact, there are also spa services available here. At Oakridge Fitness and Wellness Center there is a staff of highly skilled massage and esthetician professionals at hand. From hydrafacials and glycolic peels to waxing and body wrapping, their expert staff insures the ultimate in gratification for the services they offer. With three massage therapists on staff, including Susanne Ridgeway who was voted the number one massage therapist in Savannah by Connect Savannah, a variety of massage services are offered including deep tissue, hot stone and couples massage. Personal Training is also an option for those seeking "one-on-one" attention and incorporates a variety of fitness models in their practice to ensure results are attained.
#10 - SOUTHBRIDGE - SAVANNAH GEORGIA
The final noteworthy property to look at can be found in Savannah, Georgia. Southbridge located on the north eastern coast of Georgia, features "first class" amenities including a 21,000 square foot Grand Lake Lodge & Spa with a multiple array of class offerings, personal trainers and miles of paved walking and biking paths. Services available include skin care treatments, massages and waxing. Through invigorating massage therapies healing hands and aromatic oils loosen tight muscles and embellish the soul. A swimming pool, fitness center and upscale and casual dining are available at the lodge and spa. Surrounded by lakes within the community, this "angler's paradise" is truly a tranquil and relaxing lifestyle choice for those seeking homes here. With a wealth of culture available in downtown Savannah and day trips to Tybee Island, this best master planned community is a wonderful place to live in Savannah.
So when it comes to choosing the perfect place to slow down, enjoy a "Zen" filled life and stay healthy, visit the Top 10 Spa Resorts before choosing the ultimate retirement destination.
About Real Estate Scorecard:
Real Estate Scorecard writes unbiased real estate reviews providing in-depth information about popular gated communities in Florida, Georgia, North Carolina, South Carolina and Tennessee, all in an effort to help people discover where to retire in the Southeast.
Website: http://realestatescorecard.com