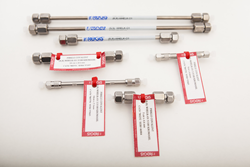 Chiral screening is not predictive; so fast methods are necessary and could be powerful improvement for analytical scientists. ~Jelena Kocergin, Director of Chromatography & Separations
Morton Grove, IL (PRWEB) January 29, 2015
Regis Technologies introduces small particle sizes to its family of chiral columns. The new columns will meet needs of analytical scientists for fast and efficient chiral separations.
Regis Technologies is a leader in chiral separations that serves both the analytical and preparative needs of chromatographers and researchers worldwide. To respond to the need of a greater variety of analytical columns, Regis has expanded column availability on the following products:

RegisPack™
RegisPack CLA-1™
RegisCell™
Whelk-O® 1
Multiple dimension sizes are available with ID sizing between 2.1-4.6mm and lengths between 2-25cm. RegisPack™, RegisPack CLA-1™, and RegisCell™ are polysaccharide-coated chiral stationary phases with 3µm silica, a complementary option to 5µm, 10µm, and 20µm columns. Whelk-O® 1is a Pirkle-type chiral stationary phase, and is now available in 3.5µm Kromasil silica in addition to 5µm, 10µm, 16µm, and 20µm sizing.
Shorter column length benefits analytical scientists who have standardized their method development to the smaller particle size with reduced analysis time and high efficiencies.
Since 1956, Regis has partnered with top chemists and universities to develop the best products for analytical scientists. In 1980, it collaborated with Dr. William Pirkle of the University of Illinois to develop the Pirkle CSP now known for its excellent selectivity that is complimentary to polysaccharide-based chiral columns, durability, universal solvent compatibility and unique ability to invert elution order. In addition to Whelk-O® 1, Regis carries other Pirkle-type CSPs.
Now, Regis is collaborating with Professor Francesco Gasparrini of the Sapienza University of Rome to continue to expand the potential of chiral chromatography with sub-2 micron particle Whelk-O1 column. Gasparrini presented the advantages of sub-2µm particle sizing with Regis at the Chirality conference in Prague and the Green Chemistry SFC conference in Basel, Switzerland last year and in recent publications.
Regis is greatly looking forward to this new addition to their chiral columns line. Director of Chromatography and Separations, Jelena Kocergin, states, "A new line of 3 and 3.5 micron particle column is designed to achieve reduced analysis time and increase throughput in analytical laboratory. Chiral screening is not predictive; so fast methods are necessary and could be powerful improvement for analytical scientists. We continue to explore potential of small particle size in supercritical fluid conditions and UHPLC for fast chiral chromatography methods that are already popular in reversed-phased mode in our work with Professor Gasparrini."
For scientists needing to determine the best chiral stationary phase for their racemate, Regis offers a free chiral screening. Regis' technical team will assess the sample against its library of chiral stationary phases in high performance liquid chromatography (HPLC) or supercritical fluid chromatography (SFC) and guarantees results within three business days. Learn more about this free service on Regis' website.
Its commitment to serving the scientific community is why Regis has been recognized as a leader in chiral separations for almost 60 years. To learn more about Regis' consumable products and separation services, download the new 2015 Chromatography & Separations catalog and Regis' Small Particle brochure in their online library or contact a local sales representative.